Guerrilla Girls to appear March 7 at UIndy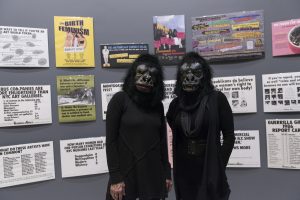 Two original members of the Guerrilla Girls activist collective, known only by their aliases Frida Kahlo and Kathy Kollwitz, will deliver their presentation/performance in UIndy's Ransburg Auditorium. (Walker Art Center photo)
Read Indianapolis Star preview
Anonymous arts activists promise laughs, lessons on 30th anniversary tour
Three decades after they first shook the art world with their cheeky criticisms of bias and discrimination, a celebrated group of anonymous, feminist activists will appear March 7 at the University of Indianapolis to retrace their legacy and inspire new generations to fight for equality in the arts and popular culture.
The Guerrilla Girls – still wearing gorilla masks and borrowing their stage names from deceased female artists – will deliver a witty multimedia presentation and respond to audience questions during the 7 p.m. event in Ransburg Auditorium, presented by the Department of Art & Design as part of the University Series. Admission is free to the appearance, which is aimed at mature audiences and not recommended for children. Registration is requested at uindyguerrillagirls.eventbrite.com
"Our gig is something between a performance and a presentation," says the group's "Frida Kahlo," who will be joined by fellow original member "Kathe Kollwitz." "We play music, show slides and videos, read from our work and take questions from the audience, all in gorilla masks. There's not a word for it!"
The Guerrilla Girls formed in mid-1980s New York City, united by their frustration with gender bias in the museum and gallery scene. They have employed facts and humor to make their case in an ongoing series of posters, billboards, videos, lectures and books that have become standard texts in art history courses.
"Do Women Have to Be Naked to Get Into the Met. Museum?" asks one of their popular poster designs. "Less than 4% of the artists in the Modern Art sections are women, but 76% of the nudes are female."
Over time, the Guerrilla Girls have expanded their targets to include racism and other forms of bias in the worlds of media and culture.
This 30th anniversary tour has included a major profile in The New York Times, a January appearance on Late Night With Steven Colbert and the ongoing Guerrilla Girls Twin Cities Takeover, a series of public events from January through March in collaboration with more than 20 cultural organizations in the Minneapolis/St. Paul area.
Guerrilla Girls: Anonymous Activists
What: 30th anniversary presentation/performance and Q&A with original members of celebrated feminist collective
When: 7 p.m. March 7, 2016
Where: Ransburg Auditorium, University of Indianapolis, 1400 E. Hanna Ave.
Admission: Free; register at uindyguerrillagirls.eventbrite.com
Information: (317) 788-3253