Inaugural lacrosse season officially underway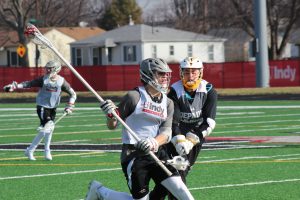 The UIndy men's lacrosse team hosted DePauw University for a scrimmage Feb. 6.
VIDEO:
Men's season preview
Women's season preview
Arcane rules may confuse new fans; athletics department offers help
A new era in Greyhound Athletics began Saturday when a team of female student-athletes played UIndy's very first intercollegiate game in a sport that is still unfamiliar to many Hoosiers and may pose a challenge for fans and even officials and scorekeepers learning the rules.
Yes, the inaugural season is underway for the state's only NCAA Division II men's and women's lacrosse program. This coming Saturday, the men travel to Mars Hill University in North Carolina for their first game, and the women host Ohio's Urbana University for their first home game in Key Stadium.
Both teams play March 5 in a home doubleheader. If you need to bone up on your lacrosse knowledge before then, the Department of Athletics has scheduled two lunch-and-learn sessions with head coaches Greg Stocks and Jillian Howley from noon to 1  p.m. Feb. 25 and Feb. 29 in the Trustees Dining Room of Schwitzer Student Center.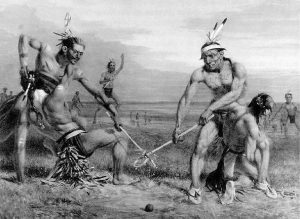 Historians say lacrosse — "lax" in current shorthand — evolved from American Indian stickball games that were first noted by European explorers in the 17th century. It remains a primarily North American game, with some activity in the U.K. and Australia.
The UIndy men's team, overseen by Stocks and assistant coach Spencer Wims, comprises 30 players recruited from as far as New York, Washington, Ontario and British Columbia, with only three from Indiana. The women's team, under Howley and assistant coach Mackenzie Jordan, has 21 on the roster from as far as Canada, Colorado and Florida, with none from Indiana.
Both coaches came from head coaching posts at Ohio's Lake Erie College, where they led their respective teams to winning records and postseason success. For this first season at UIndy, expectations are modest. In preseason polls, the men were ranked seventh out of nine teams in the Eastern College Athletic Conference. The women, who unfortunately were shut out Saturday by No. 3 Lindenwood of Missouri, were ranked sixth out of seven teams in the Great Lakes Intercollegiate Athletic Conference. The Great Lakes Valley Conference, home to most of UIndy's 21 other sports, does not yet sanction lacrosse but plans to introduce it soon.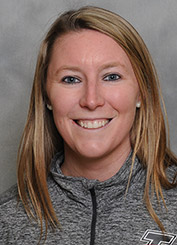 The fact that the two teams are in different conferences is just one of many differences between them and between men's and women's lacrosse in general. Stocks and Howley — who happen to be husband and wife – say the contrasts are confusing even to them.
"The games are totally different," Howley says.
So what's different?
"It's shorter to go with what's similar: the name, the cage and the stick," Stocks says.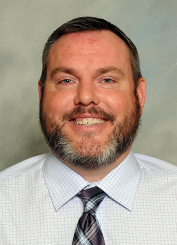 The most obvious and basic principle of lacrosse is that, rather than touch the ball with their hands, the players use a stick, or "crosse," with a webbed head that allows the ball to be caught, carried, thrown or shot. The cage, or goal, is 6 feet by 6 feet for both men and women, and final scores tend to be in the single digits or low teens. Both use a rubber ball comparable in size to a tennis ball but heavier, though the ball is white for men and yellow for women, unless they are playing in snow or on TV, which sometimes calls for an orange ball.
Following so far? Here are some other differences between men's and women's lacrosse:
FIELD DIMENSIONS
Men: Shorter but wider than a football field
Women: Longer and wider than a football field
PLAYERS ON FIELD
Men: 10
Women: 12
GAME FORMAT
Men: Four 15-minute quarters
Women: Two 30-minute halves
CLOCK
Men: Stops with every referee whistle
Women: Keeps running except after a major foul
CONTACT
Men: Body checking allowed; helmets and other protective equipment required
Women: Stick checking but no body checking permitted
One thing the two have in common is that they play outdoors in virtually any weather, which is no small issue for a field sport that opens its season in February. Already, the UIndy teams have had to clear some snow from Key Stadium's Kiesel Field. It's just part of the game.
"I played in a blizzard in undergrad," recalls Howley, a New York native and four-year letterwinner as a lacrosse player at Pennsylvania's Robert Morris University. "We were well into the negatives with wind chill."
Stocks, a native of British Columbia who played at SUNY-Potsdam and Mercyhurst in Pennsylvania, has similar recollections: "The mesh on the stick was frozen solid."
Check these links to learn more about UIndy men's and women's lacrosse.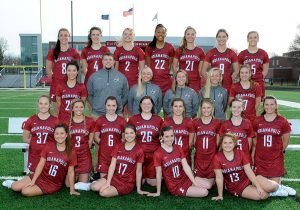 The Greyhound women's lacrosse team includes three players from Canada and none from Indiana, though there are many from surrounding states.