Budding chemists take on UIndy challenge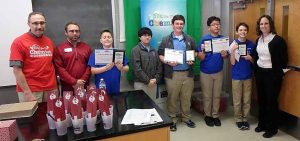 From left after Saturday's chemistry quiz competition are Larry Sernyk, You Be the Chemist local coordinator; Dr. Brad Neal of the chemistry department; top competitors Charles Law, Dylan Tadas, Andrew Gangstad, Lukas Song and Ethan Howard; and UIndy alumna Lindsey Horty of Dow AgroSciences.
Local middle-schoolers and their families came to campus today as the UIndy Department of Chemistry hosted the Indianapolis South round of the You Be the Chemist Challenge, a national scholarship competition conducted by the Chemical Educational Foundation.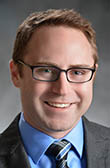 The quiz-bowl style contest is designed to spark interest in STEM subjects among students in grades 6 through 8, said Assistant Professor Brad Neal, who coordinated the local event in collaboration with 2008 UIndy grad Lindsey (Fischer) Horty, now a Discovery Lead Chemist with Dow AgroSciences. Dow is a leading state and national sponsor of the competition.
"It's a way to integrate chemistry into their academic life a little earlier," Neal said.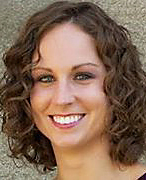 Participating schools included Robert Lee Frost No. 106, Doe Creek Middle School and St. Jude Catholic School.
The top finishers were:
1. Andrew Gangstad, St. Jude Catholic School
2. Ethan Howard, Doe Creek Middle School
3. Charles Law, Doe Creek Middle School
4. Lukas Song, Doe Creek Middle School
5. Dylan Tadas, St. Jude Catholic School
They will advance to the April 16 state competition, which feeds into the 2016 National Challenge on June 20 in Washington, D.C.
After today's competition, the visiting junior chemists enjoyed hands-on activities led by students from the UIndy Chemistry Club.