Installation overtakes DeHaan Center Gallery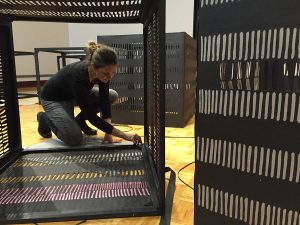 Artist Jennifer Caine puts finishing touches on Continuum, a massive installation on display through March 18 in the Christel DeHaan Fine Arts Center Gallery.
If it looks like a giant toddler has run amuck in UIndy's Christel DeHaan Fine Arts Center Gallery, the responsibility lies with artists Rachel Hellmann and Jennifer Caine.
The team has spent the past week creating Continuum, a site-specific installation that opens Monday with a gallery reception from 4 to 6 p.m. and continues through March 18.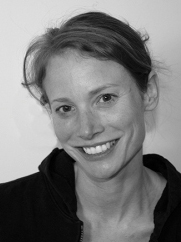 Colleagues for a decade and collaborators since 2013, Hellmann of Terre Haute and Caine of New Hampshire say the work represents their effort to evoke "a sense of play and visual mystery."
Continuum consists of 13 wooden cubes, each 36 inches square and wrapped in black roofing paper. The blocks are painted in grays, blacks and touches of more vibrant color, with tick marks intended to convey the passage of time and the labor of the creative process.
The project follows previous installations created during residencies at The Ragdale Foundation in Lake Forest, Ill.; the Interface Residency in Batavia, Ill.; and the Addison Gallery of American Art in Andover, Mass.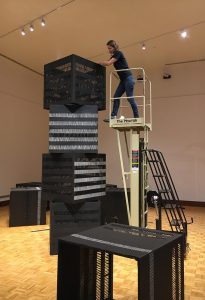 Described in their own words: "In Continuum, the artists draw on their knowledge of color, light and surface from their backgrounds as painters to construct an immersive environment out of commonplace materials. The accumulation of hand-painted tick marks and cuts are a record of time and labor – essential elements of the creative process. The interaction between these elements creates a sense of play and visual mystery, inviting the viewer to move through the space and experience it in a fresh way."
Admission is free to the DeHaan Center Gallery, which is open 9 a.m. to 9 p.m. weekdays. More information is available at www.uindy.edu/arts/art or (317) 788-3253.