Writer and UIndy alumnus to speak March 7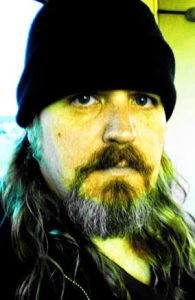 Indianapolis-born author and underground filmmaker Alec Cizak will appear March 7 in the latest installment of UIndy's Kellogg Writers Series.
Cizak, who earned a master's degree in English from UIndy in 2011, will read and discuss his work at 7:30 p.m. in the Trustees Dining Room of Schwitzer Student Center. Admission is free.
His work has been featured in more than a dozen journals and anthologies, including the Wayne Literary Review, Beat to a Pulp and Profane. His books include the noir novels Between Juarez and El Paso and Manifesto Destination (set in 1990s Indianapolis), as well as the 2015 short fiction collection Crooked Roads, published by All Due Respect Books. He edits the crime fiction journal Pulp Modern and blogs at nomoralcenter.blogspot.com.
Cizak also has written and directed several short and feature-length motion pictures. The latest is 2015's Kato Therapy, which he financed, wrote, directed, shot and edited. He holds a Master of Fine Arts from Minnesota State University at Mankato.
UIndy's Allen & Helen Kellogg Writers Series brings writers of distinction to campus for public readings and discussions. The 2015-2016 season concludes April 13 with poet Adrian Matejka, whose 2013 book The Big Smoke was a finalist for the Pulitzer Prize and the National Book Award in poetry. For more information, contact series director Kevin McKelvey at (317) 788-2018 or mckelveyk@uindy.edu.