Leukemia can't keep wrestling brothers apart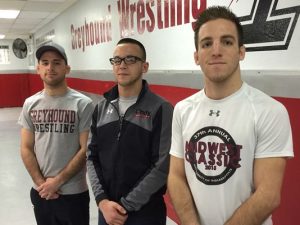 UIndy wrestlers Josh, Joe and Justin Kieffer were teammates this year for the first time since Joe was sidelined by leukemia in high school. (Indy Star photo)
As the UIndy wrestling team prepared to host last weekend's NCAA D-II Super Regional tournament, the Indianapolis Star previewed the event with a heartwarming story about the Greyhounds' three Kieffer brothers, who against the odds were able to wrestle on the same team this season.
Twins Josh and Justin Kieffer, 24, are redshirt seniors wrapping up their college careers. Redshirt sophomore Joe Kieffer, 22, was sidelined for over three years by leukemia, diagnosed just as his older brothers were enrolling at UIndy in 2011.
"Everything felt like the way it always should have been this year," Justin told sportswriter David Woods.
Until this year, however, life was tough for these three Roncalli High School grads and their family. Joe's battle inspired Justin to study Nursing. See the full Indy Star story and video here.
Josh, who is majoring in Criminal Justice, headed into the Super Regional with a No. 5 national ranking in his weight class. He took two wins over the weekend to become one of four Greyhounds heading to the upcoming D-II National Championships. Read more about the UIndy wrestling team at the Athletics Website.