Female art icons share experiences at UIndy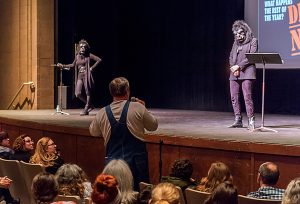 Guerrilla Girls Kathe Kollowitz (left) and Frida Kahlo field audience questions after their 30th anniversary presentation Monday in Ransburg Auditorium.
Read Indy Star interview
View Indy Star photo gallery
They entered Ransburg Auditorium from the back of the house, passing out bananas as they went. They left more than two hours later, after lots of autographs and hugs for admirers who consider them rock stars of art and social justice.
In between, on Monday evening, two original members of the New York-based Guerrilla Girls activist collective offered a 30th anniversary retrospective of their street-level public relations campaigns against discrimination and shady business in the art world. And in Hollywood. And throughout society. Behind gorilla masks and stage names borrowed from pioneering female artists, Frida Kahlo and Kathe Kollowitz recounted their ironic story of an anonymous protest group finding international acclaim with its books, posters, public art projects and personal appearances. (Earlier in the day, they led a private workshop for students from the Department of Art & Design.)
Kahlo and Kollowitz — who earlier in the day led a private workshop for students from the Department of Art & Design — urged the near-capacity crowd to target their own causes and discover their own ways to fight for them.
"Don't teach an art history that is constructed by corrupt institutions," Kollowitz said. "Do what we did: Write your own."
The University Series event was presented by the Department of Art & Design.
*               *               *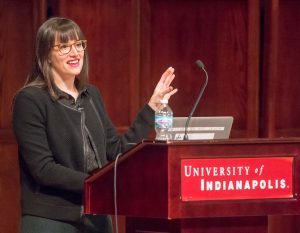 Another prominent woman of the arts appeared last week at UIndy, courtesy of the Professional Edge Center: Sarah Urist Green, host and executive producer (with her husband, novelist John Green) of the weekly web video series The Art Assignment.
Produced by PBS Digital Studios, The Art Assignment sends one or both of the Greens around the nation to meet professional artists and solicit assignments that viewers can undertake. In her March 3 UIndy appearance, which was closed to the public, she talked about the show, about her previous work as a curator at the Indianapolis Museum of Art and about art-related careers in general.