Tuesday lectures to feature noted theologian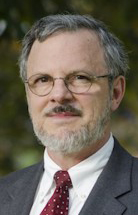 Author and scholar Kevin Vanhoozer will explore the concept of "theatrical theology" in two presentations Tuesday at UIndy, sponsored by the Showers Lectures in the Christian Religion series.
Dr. Vanhoozer, Research Professor of Systematic Theology at Trinity Evangelical Divinity School in Illinois, will speak at 4 and 7:30 p.m. in McCleary Chapel, second floor of Schwitzer Student Center. Admission is free, and L/P credit is available for students.
His theme, "Theatrical Theology: Performing the Drama of Doctrine," is distilled from two of his acclaimed books: The Drama of Doctrine: A Canonical-Linguistic Approach to Christian Theology, which won the Christianity Today 2006 Book Award for best book in theology, and Faith Speaking Understanding: Performing the Drama of Doctrine, which won the same award in 2015.
The lectures are:
4 p.m.: "God Acts Out: the Divine Drama of Redemption"
7:30 p.m.: "The Church Acts Out: Participating in the Performance"
Vanhoozer holds a master of divinity from Westminster Theological Seminary and a Ph.D. from Cambridge University.
The Showers Lectures in the Christian Religion are made possible through the generosity of the late J. Balmer Showers, a bishop of the Evangelical United Brethren Church and former University of Indianapolis trustee. Showers established the annual lecture series with an endowment gift to the university shortly before his death in 1962.
For more information, contact the Office of Ecumenical & Interfaith Programs at (317) 788-2106.