New string quartet draws from ISO, UIndy

The players in UIndy's Shaheen String Quartet Residency Project are (from left) Indianapolis Symphony Orchestra concertmaster Zach De Pue, UIndy associate professor Austin Hartman, ISO principal cellist Austin Huntington and Oberlin Conservatory associate professor Michael Strauss.
Violinists De Pue and Hartman will lead first performance April 18
A new classical string quartet featuring Indianapolis Symphony Orchestra concertmaster Zach De Pue will debut with a sneak-peek afternoon performance Monday, April 18, at the University of Indianapolis.
Joining De Pue, who recently announced his amicable departure from the eclectic string trio Time for Three, will be:
Violinist Austin Hartman, assistant professor in UIndy's Department of Music;
Violist Michael Strauss, a longtime ISO veteran now teaching at Ohio's Oberlin Conservatory of Music; and
Cellist Austin Huntington, who just joined the ISO as principal cellist.
Their collaboration is dubbed the Shaheen String Quartet Residency Project, though the quartet itself does not yet have a name. Hartman is funding the project through an internal grant from UIndy, which received a $5 million gift last year from philanthropist and university trustee Yvonne Shaheen to name the Shaheen College of Arts & Sciences.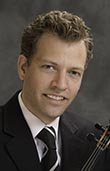 Hartman, who has known De Pue since both were high school musicians playing summer festivals, said the four members have been playing in various combinations over the past year and decided to band together and explore the quartet repertoire.
"All of the great composers wrote for this combination of instruments," says Hartman, who spent 12 years touring the world with the Biava Quartet before joining the UIndy faculty. "This is us giving back to the community as people who respect each other and respect the repertoire."
The April 18 event is a mini-residency of sorts that begins with an open rehearsal from noon to 1 p.m. in Ruth Lilly Performance Hall of UIndy's Christel DeHaan Fine Arts Center. From 1 to 1:30, the quartet will play brief pop-up concerts around campus. At 2 p.m., they will return to the performance hall for a one-hour "sampler concert" and Q&A session, showcasing works of Mendelssohn, Ginastera, Haydn and Beethoven.
The day is designed to provide a behind-the-scenes view of how a quartet works, Hartman said. A more formal, full-length evening concert will be scheduled this fall at UIndy, and beyond that, the players are open to possibilities.
"This is our first project, and we'll see how it goes," Hartman says.
More information is available by contacting the Department of Music at (317) 788-3255 or Assistant Professor Austin Hartman at hartmana@uindy.edu.
Shaheen String Quartet Residency Project
Monday, April 18, 2016
UIndy's Christel DeHaan Fine Arts Center, 1400 E. Hanna Ave.
Noon-1 p.m.: Open rehearsal in Ruth Lilly Performance Hall
1-1:30 p.m.: Pop-up concerts around campus
1:30-2 p.m.: Refreshments at Christel DeHaan Fine Arts Center
2-3 p.m.: Concert and Q&A in performance hall