Expand your skill set at the Faculty Learning Design Studio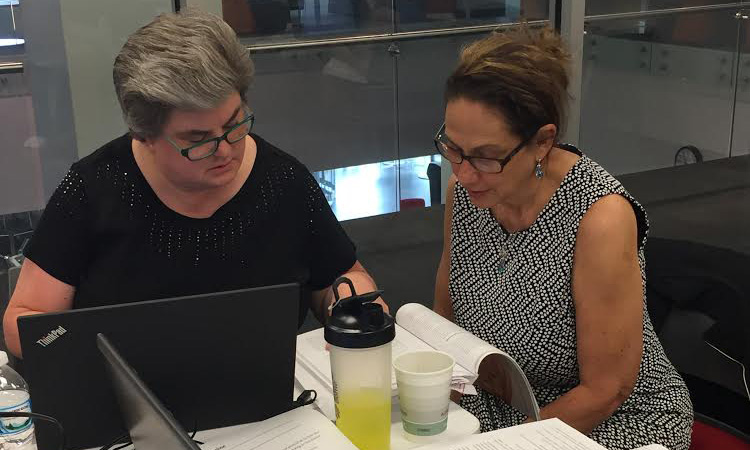 Making time for professional development can be a challenge during busy semesters, but opportunities abound at the Faculty Learning Design Studio. The studio, located in the Krannert Memorial Library, offers a variety of workshops coming up in August and throughout the academic year for faculty who wish to hone their professional skills.
The Faculty Learning Design Studio is staffed to provide the design and development of online courses, with faculty serving as the subject matter experts. Workshops include "New Faculty Orientation," "Creating a Quality Online Course," "Quality Matters: Applying the Quality Matters Rubric," and other topics including academic leadership, developing rubrics, publishing research and navigating the Human Research Protections Program.

Beth Kiggins, who organizes the studio's annual "Creating a Quality Online Course" along with colleague Carla Harper, explained that planning, clarity and flow of communication are all key when developing an online course. The workshop introduces participants to best practices, including syllabus design, how to write effective learning objectives and rubrics, test question design and creation of online discussions.
"Online courses should be consistent and cohesive in the way they are structured so students can focus on learning rather than searching for instructional elements of the course. Once faculty are aware of best practices and provided with strategies, it becomes easy to accomplish this across each of their courses," Kiggins said.

Tamara Wolske, program director & assistant professor in Aging Studies, has participated in several workshops over the years and said she makes it a point to share what she learns with colleagues.
"The workshops on teaching and scholarship have been useful in my overall professional skill development. These topics were directly associated to how I develop and implement online courses for effective teaching and learning, as well as how I work with faculty and adjuncts in matters of curriculum development and online course delivery," Wolske said.
Building relationships with students is integral to the success of online courses, just as it is with traditional face-to-face courses. But creating those relationships in an online environment can be challenging.
"One of the biggest misconceptions is that teaching online or taking an online course is 'easy.' It requires a lot of work. While most of the work is in the course development and design, it gets easier (and less time-consuming) each time it is offered," Kiggins said.
Krista Kinslow '11 (history), who is currently working on her doctorate at Boston University and teaching at UIndy, attended the workshop with the goal of expanding her teaching skill set.

"I wanted to learn different kinds of tools and how to take a history course and put it in an online format. I've learned that it requires different kinds of assignments, and it's more student-driven than a traditional course," she said.

The studio's next offering is the "Quality Matters: Applying the Quality Matters Rubric" (APPQMR) workshop on Aug. 9, 2018 from 9 to 4 p.m. Faculty can register here. (Date may be subject to change.)"New Faculty Orientation," organized by Amanda Miller, Director of Faculty Development and chair of sociology, will be held Aug. 20 and 22.

"New Faculty Orientation is crucial not only because faculty are able to learn how to better craft student learning objectives and access ancillary services, but also because it is an opportunity to meet the cohort of people with whom you will work alongside with throughout your career," Miller said.