New women's hoops coach meets the press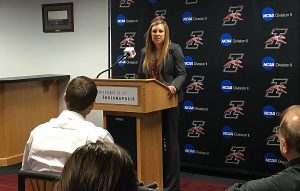 Kristin Drabyn, the new head coach for Greyhound women's basketball, fields questions during a news conference today in the Hines Hospitality Room.
Watch video interview
Read Indy Star story
In her first official appearance on campus, Kristin Drabyn said her top priorities for the women's basketball team are to help her players complete their educations and represent UIndy well as student-athletes.
Next, she plans to win games.
"I can't wait to get out on the court," said the newly appointed head coach, who was introduced to colleagues and the press this afternoon in Nicoson Hall.
A graduate of Avon High School, Drabyn comes to UIndy from IUPUI, which has gone 59-37 in Division I during her three years as assistant coach and earned a trip this year to the Women's National Invitational Tournament. As the ninth head women's basketball coach in Greyhound history, she takes over a program that has weathered back-to-back losing seasons for the first time since 1999.
Sue Willey, vice president for Intercollegiate Athletics, said the job opening drew more than 120 applicants, but Drabyn was the first choice of every group that interviewed candidates. She previously assisted at University of Maryland Baltimore County, where she had been a four-year letter winner as a player and helped guide the team to the 2007 America East championship and a spot in the NCAA D-I Tournament.
With several years' experience as a recruiting coordinator, Drabyn said she looks forward to meeting with prospective players and their families.
"Recruiting is about relationships," she said. "Indiana has a lot of great talent."
Learn more about Drabyn and the team at the Athletics website.