Former Mayor Ballard takes post at UIndy
Archives fellowship will support work on issues facing U.S. cities
WATCH: Inside Indiana Business interview with former Mayor Ballard and UIndy President Robert Manuel
OTHER NEWS COVERAGE: Indy Star, IBJ, WTHR, WXIN, WISH, WRTV, WIBC-FM, Inside Indiana Business, IndyPolitics.org, NUVO Newsweekly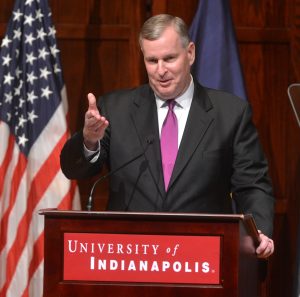 The University of Indianapolis announced today former Indianapolis Mayor Greg Ballard will join the institution as a Visiting Fellow of the Institute for Civic Leadership & Mayoral Archives. Ballard's role will bring a new dimension to the Mayoral Archives, which are overseen by Professor of History Edward Frantz and maintained by UIndy's Krannert Memorial Library.
Ballard also will advance thought leadership strategies to convene conversations with local and national leaders on issues facing U.S. cities as well as advance the City of Indianapolis' Mayoral Archives as a resource for officeholders, community leaders, researchers and students. His work will focus on themes that marked his years in office to impact quality of life in urban areas, including clean-energy solutions to public needs, new approaches to urban transportation and the value of global perspective and international collaboration.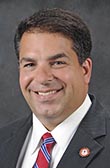 "Former Mayor Ballard's role continues a University of Indianapolis tradition of working closely with city leaders," said University of Indianapolis President Robert L. Manuel. "He's been a vital partner in UIndy's efforts to enhance the quality of life in our own neighborhood and throughout Indianapolis. I'm looking forward to seeing firsthand his contributions to UIndy's intellectual life and student learning opportunities, and I believe our partnership can make a national impact."
UIndy's history of mayoral collaboration has deep roots. All four of Ballard's immediate predecessors – Richard Lugar, William Hudnut, Stephen Goldsmith and Bart Peterson – have served on the university's Board of Trustees and entrusted their official papers and other materials to the archives. Lugar taught at UIndy before running for the U.S. Senate, and his annual symposium for Indiana high school students at the university will mark its 40th anniversary this year. In 2012, he partnered with UIndy to launch the Richard G. Lugar Academy. Hudnut also taught at UIndy and more recently has met with students, consulted on the archives and participated in oral history interviews with faculty.
Ballard, who delivered his 2014 State of the City address from the UIndy campus and also has donated his materials to the archives, said the university has the right infrastructure to support the contributions he has identified as a priority as a veteran of public service.
"I've enjoyed working with the University of Indianapolis on the many issues of concern we share," he said. "This new relationship, drawing on the resources of the university, will provide a platform for national conversations on the future of urban life in our country." Ballard's initial appointment begins today.
Founded in 1902, the University of Indianapolis offers 100 undergraduate programs and nearly 40 master's and doctoral programs in fields including the health sciences, arts, sciences, business, education and engineering. Its nationally ranked graduate programs produce more physical therapists, occupational therapists and clinical psychologists than any other university in Indiana. An 11:1 faculty-student ratio enables students to benefit from personal attention and work closely with faculty on research and scholarship. The 60-acre home campus is located just minutes from the city's downtown, providing access to internship, career and cultural opportunities.
About the Mayoral Archives at the University of Indianapolis
UIndy's Mayoral Archives are a multimedia trove of more than a million documents, images, recordings and other artifacts from the administrations of former Indianapolis mayors Richard Lugar, William Hudnut, Stephen Goldsmith, Bart Peterson and Greg Ballard. The vast collection covers an era, beginning in the late 1960s, during which innovative and strategic public-private collaboration made Indianapolis a national model of urban revitalization. Digitized with support from Lilly Endowment, the archives are searchable online at www.uindy.edu/mayoral.