Marine Corps Band to perform Friday night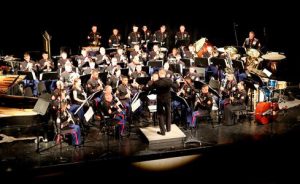 In a surprise addition to the UIndy arts calendar, the Marine Corps Band New Orleans will perform Friday night at the Christel DeHaan Fine Arts Center.
Free and open to the public, the concert will begin at 7:30 p.m. in Ruth Lilly Performance Hall. The program will include a variety of contemporary and traditional orchestral music.
This is the only Indianapolis stop on the band's spring tour, and these are not ringers — all the musicians are active-duty Marines and trained riflemen, according to their publicity materials.
L/P credit is available for students. For more information, contact the Department of Music at 788-3255.