Students gearing up for weekend of service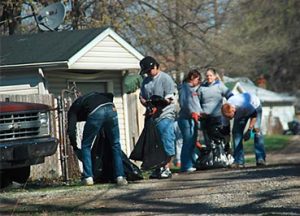 Final exams are barely a week away, but many UIndy students are devoting a big chunk of their weekend to community service.
The annual Great UIndy Cleanup starts at 8 a.m. Saturday. More than 70 volunteers have signed up with Campus Program Board to take on planting, mulching, outdoor maintenance and other tasks at University Heights United Methodist Church and throughout the University Heights neighborhood adjacent to campus.
Volunteers can still join in by registering at 8 a.m. Saturday in UIndy Hall. Breakfast is provided.
Also on Saturday, the Active Minds student organization is hosting its annual Stomp Out Stigma 5K Run/Walk around campus to raise money for mental health awareness and advocacy efforts. The event culminates a year of fundraising activities for the group, which strives to reduce the stigma surrounding mental health issues.
Check-in begins at 9 a.m. Saturday on Smith Mall, and race time is 9:30 a.m. Registration is $20 and includes a commemorative T-shirt. Prizes will be awarded in various age categories. More info is on the Active Minds Facebook page.