Expo, luncheon recognize community service
The University of Indianapolis will celebrate its "Education for Service" motto Thursday with an awards luncheon and expo honoring UIndy students and the many community organizations they serve through volunteerism and service-leaRning courses.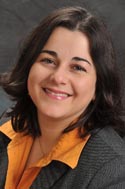 The Community Campus Forum and Service Expo in Schwitzer Student Center's UIndy Hall also will include the presentation of the Indiana College Career Center Consortium's Paul W. Gabonay Volunteer Service Award, recognizing an Indiana undergraduate who best exemplifies the qualities of integrity, commitment to serving those in need and dedication to fostering the growth and gifts of others. This prize, named for UIndy's former career services director, includes a $500 monetary award.
Lessons Learned: A Community Partner Perspective is the theme of the event, organized by UIndy's Center for Service-Learning and Community Engagement.
"So many inspiring stories come out of our community service work, and this is an opportunity to share those stories," said Marianna Foulkrod, the center's director.
The expo from 11 to 11:45 a.m. will include booths with representatives from more than 20 community organizations, including Big Brothers Big Sisters of Central Indiana, Southeast Community Services, SENSE Charter School, Bosma Enterprises, Burmese American Community Institute, Keep Indianapolis Beautiful, St. Elizabeth/Coleman Pregnancy & Adoption Services, Indiana Math and Science Academy South, The Julian Center, Exodus Refugee Immigration Inc., Easter Seals Crossroads and Shepherd Community Center.
The community luncheon and program from 11:45 a.m. to 1 p.m. will include the presentations "Community Engagement in Higher Education" by J.R. Jamison, executive director of Indiana Campus Compact; and "Learning Together through Higher Education: A Community Partner Perspective" by Kate Voss of SENSE Charter School and Sandra Bailey of the Indianapolis Housing Agency.
Award recipients also will be announced, including UIndy's Outstanding Service-Learning Undergraduate Student, Outstanding Service-Learning Graduate Student and Community Partner of the Year.