Director tapped for new Engineering programs
An expert in electrical and computer engineering has been chosen to lead the new programs in Engineering at the University of Indianapolis.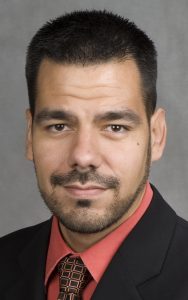 José R. Sánchez brings substantial research and teaching experience from his work at Bradley University in Peoria, Ill., where he began teaching in 2002. He has served most recently as associate professor of electrical and computer engineering at Bradley. He starts at UIndy on May 16 as director and associate professor of Engineering.
Sanchez' specialties and research interests are biomedical imaging and devices, discrete-time signal processing, embedded systems, engineering education, robotics, real-time implementation of digital signal processing and image, multidimensional, multirate and adaptive signal processing.
"The needs of engineering have changed over the last few decades," Sánchez said. "Most problems that society faces today require complex multidisciplinary and transdisciplinary solutions. My goal is to collaborate with the industry to create real-world problems for our students to solve. UIndy's strong core, along with the emphasis on communication, problem-solving, design, testing and teamwork, will uniquely position our engineering students as strong contributors to society."
Sánchez is a senior member of the Institute of Electrical and Electronic Engineers and a member of a number of IEEE societies (Education; Engineering in Medicine and Biology; Signal Processing; and Ultrasonics, Ferroelectrics and Frequency Control) as well as the Acoustical Society of America and the American Society for Engineering Education. He holds a Ph.D. in electrical and computer engineering from the University of Illinois at Urbana-Champaign.
UIndy now offers two new degrees in the fast-growing fields of Software Engineering and Industrial & Systems Engineering. The university is one of few Indiana institutions to offer these innovative engineering programs, which provide students with authentic design opportunities invigorated by a general education core that develops well-rounded professionals.
"These programs build on UIndy's strengths in the sciences and mathematics," said Jennifer Drake, dean of the Shaheen College of Arts & Sciences. "Students choosing to study engineering at UIndy will benefit from small class sizes, strong relationships with faculty and unique opportunities to engage in undergraduate research and project-based learning."
UIndy's engineering programs emphasize:
Creativity: Students learn how to think like an entrepreneur to find new ways to tackle complex challenges.
Critical Thinking: Students learn how to break down complex issues to their simplest form to evaluate, synthesize, observe and reflect as an intellectual guide to action.
Social Responsibility: Students learn how engineering projects have ethical implications on society and why engineers must consider issues such as environmental impact and lean production methods.
Problem Solving: Students learn how to solve problems through modeling, data analytics, strategic thinking and risk assessment, which play a significant role in decision-making.
More information about the engineering programs at UIndy is available at www.uindy.edu/cas/engineering.