Presenting diversity research from coast to coast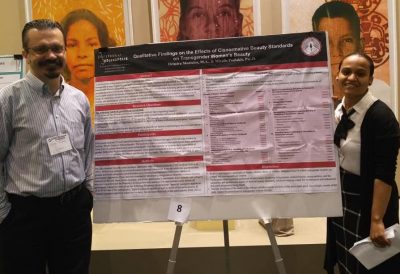 From the east coast to the west coast, find out what UIndy doctoral students have been up to lately:
Philadelphia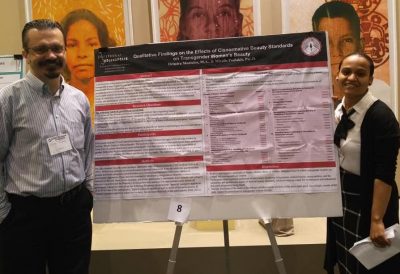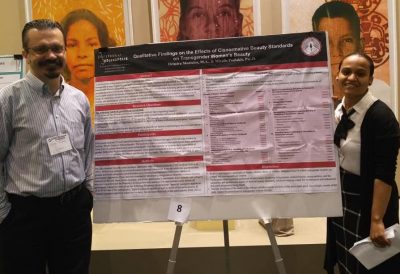 Doctorate student Del Monteiro, MA ('17) and Dr. Michael Poulakis, PsyD ('94, '98, '02) presented Monteiro's doctorate research findings in August at the 
Philadelphia Trans Wellness Conference.
The title of the presentation was "Qualitative Findings on the Effects of Cisnormative Beauty Standards on Transgender Women's Beauty."
According to Dr. Poulakis, this research is unique because no other research exists on the topic of beauty standards related to transgender women.
Monteiro's research was supervised by Dr. Michael Poulakis and hosted by UIndy's Consensual Qualitative Research (CQR) Lab. It is in the process of being published and has received the National Trans Research Award from American Psychological Association's Division 44: Society for the Psychology of Sexual Orientation and Gender Diversity. 
San Francisco
Dr. Poulakis' CQR Lab presented research in August at the American Psychological Association Convention.
Doctorate student Dr. Nour Abdelghani, PsyD ('18) and Dr. Poulakis presented Abdelghani's doctorate research findings. "Understanding Enmeshment in Arab American Mother-Child Relationships" explores the relationship between Arab immigrant mothers and their first-generation American children. Existing literature exploring family dynamics specifically in the Arab American family is limited, yet needed, given the growing number of Arabs living in the United States today, according to Dr. Poulakis. This study focuses on exploring emotional closeness among Arab mother-child relationships and is the first to explore enmeshment among this population.

Abdelghani's research received the 2016 Diversity Research Grant for Pre-Doctoral Candidates from Division 29 of the American Psychological Association: Society for the Advancement of Psychotherapy. Dr. Abdelghani will be a post-doctorate fellow at the Institute for Child and Family Heath in Miami.
Angeliki Menediatou, MA ('03), Nikos Nakopoulos, Sebastian Del Corral Winder, MA ('18) and Dr. Poulakis presented groundbreaking research related to mental health in Greece. "Participant Satisfaction With Self-Help Groups in Greece" is the first known effort in Greece to qualitatively address the participants' satisfaction from the self-help group for mood disorders. The results support existing literature concerning the potential benefits of the participation on such supportive groups.
Sebastian Del Corral Winder, MA ('18), TJ Lesher, MA ('16) and Dr. Poulakis presented community proposal findings related to Latina Women. "Life After Domestic Violence: Support Groups for Latina Immigrant Survivors" was inspired by the community work and involvement that Del Corral Winder has with the Latino community in Indianapolis. Focusing on Latinas who have experienced intimate partner violence, the presentation addressed challenges Latinas face in seeking services for domestic abuse in Indianapolis and proposed a best practices, diversity-informed support group to help with regaining self-esteem and empowering victims.