History prof named Teacher of the Year
Amid accolades from students and colleagues, Dr. James Williams has been named UIndy's 2016 Teacher of Year.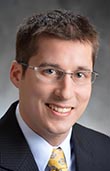 "I was very surprised and humbled," said Williams, assistant professor of History and interim executive director of the Ron and Laura Strain Honors College.
The award was presented at a Tuesday faculty meeting by Executive VP and Provost Deborah Balogh.
"This is the highest honor we present to our faculty," Balogh said. "Simply being nominated is a big deal, and the winner is chosen only after an extensive evaluation process."
Though Williams researches medieval history, he is a jack of all trades in teaching, covering history from Ancient Rome, the Middle Ages, Early Modern Europe and Latin America among other subjects. He received his Ph.D. from Purdue University, where he received a distinguished dissertation award.  He also holds a master of studies degree from Oxford University's Hertford College and a bachelor of arts from the College of William and Mary.
The award citation read by Balogh included comments from student evaluations, praising Williams' dedication, enthusiasm and ability to bring history to life.
"In his class, while I wasn't a history major, I still felt like I belonged there," one student wrote. "I felt like I was learning something that was important."