Special activities ease end-of-semester stress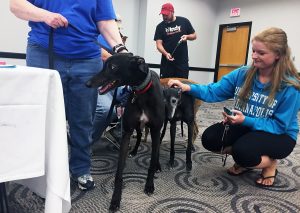 Students picked up mental health tips and enjoyed the company of friendly canines during Wednesday's "Dog Days of Summer" Wellness & Relaxation Fair, presented by the Counseling Center.
Final exams are looming on the UIndy campus, but students are getting plenty of support.
A series of Healthy Hounds Week events are under way this week to promote general mind, body and spirit wellness for the entire UIndy community. Organized by the Student Affairs office, the schedule includes daily workout opportunities at the Fitness Center and on Smith Mall, weather permitting, as well as worship and prayer services and championships for the various intramural sports.
Wednesday brought the Counseling Center's "Dog Days of Summer" Wellness & Relaxation Fair, during which university employees and friends brought their dogs to UIndy Hall over the lunch hour to provide some furry comfort to students. The Dining Hall offered a special Healthy Dinner menu Wednesday evening.
Upcoming events include the Stress Less mini-carnival from 5 to 7 p.m. today in the Schwitzer Student Center atrium, featuring a miniature pony and other fun; and a "Red for Riley" Charity Ball from 8 to 11 p.m. Friday in UIndy Hall, benefiting Riley Hospital for Children. Saturday's events include a "Dude Perfect" All Sport Golf Battle from noon to 6 p.m., in which all students are invited to join in a wacky golf competition using equipment from other sports.
Next week's run of Final Exams, as always, will be tempered by the popular Midnight Breakfast at 11:59 p.m. Monday in the Dining Hall, as well as a full schedule of Senior Week festivities for those soon to graduate.