Congratulations, 2018 Faculty & Staff Achievement Award Winners!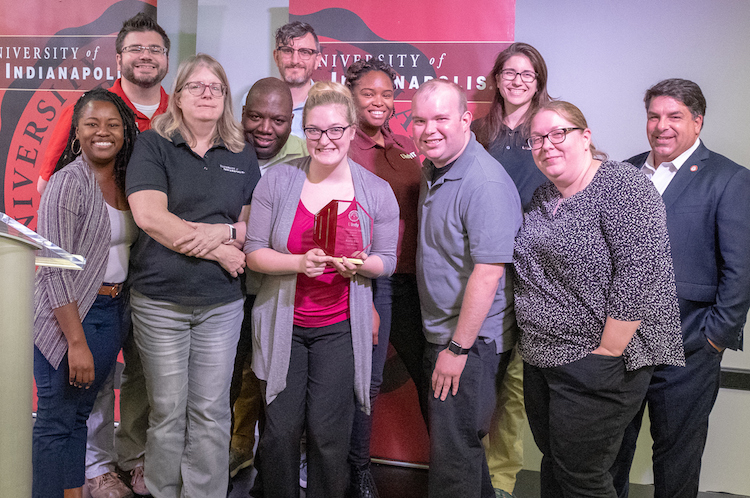 The Faculty and Staff Achievement Awards Program is designed to promote and reward outstanding performance by faculty and staff at the University of Indianapolis. The 2018 award recipients have been announced! Learn more about each recipient below:
Unsung Hero Award: Janet Robinson, Human Resource Specialist
Janet consistently supports academic & non-academic endeavors at UIndy. Her dedication to all constituents across campus is tirless, and she is always available to offer assistance. She regularly devotes significant time to investigate solutions to complex, sensitive and difficult issues. Her dedication & spirit are integral to the University mission.
Emerging Leader Award: Steven Freck, Assistant Director for Student Activities
Steven takes on extra work to cover vacancies in his department, and always takes the time to onboard and involve new coworkers. He continues to build upon relationships he developed as an undergraduate, from co-leading a Ghana service trip to redesigning New Hounds Day and eliminating roadblocks to grow the number of registered student organizations (RSOs).
Enhancing the Student Experience Award: Kyle Johnson, Residence Hall Director
Kyle is committed to serving our student population and demonstrates outstanding innovation and enthusiasm. While supervising & conducting daily operations of Cravens Hall, he rose to the challenge of teaching the New Student Experience & integrating a hall council into the hall. Through his commitment to student development & leadership, he has created a platform for residents to engage in civil dialogue, bringing about positive change. 
Spirit of UIndy Award: Barbara Lawson, Administrative Assistant, Admissions Office
Barbara goes beyond taking pride in her work – she encompasses what it means to truly live in the example of UIndy's mission. Considered a "second mom" to many on campus, she's often the first person with whom people develop a connection. Her positivity, enthusiasm and warm-hearted nature provide the perfect experience for new students and their guests. She also plays a critical role in the development of the Presidential Ambassadors program, a student staff of almost 70 people.
Beyond UIndy Award: Andre Givens, Director of Undergraduate Enterprise and Engagement
Andre has made significant efforts to improve the community as a leader working toward social justice. He serves others' needs with humility and compassion, unmatched professionalism and a welcoming demeanor. He successfully championed an increase in the School of Business undergraduate recruitment and also worked with the Professional Edge Center to increase job fair participation among students. His leadership is also displayed off campus, including his work with 100 Black Men of Indianapolis as the board chairman for the Financial Literacy Investment program, Healing Friends Foundation and as the Parent President in the Early Leaning Lilly Family Center. He was recently accepted into the 2018 class of the Stanley K. Lacy Executive Leadership Series.
Inclusive Excellence Award: Rev. Arionne Williams, Associate Chaplain
Arionne has contributed countless hours of service on the steering group for the university-wide Professional Life Review. In her first year, she extended the reach of interfaith programming to approximately 300 percent more students, while diversifying the religious makeup of student leaders. Chapel ministries have had greater participation and influence thanks to her. Starting this fall, because of her leadership, UIndy will offer a second weekly chapel service – this one in the African American church tradition. 
Collaborative Spirit Award: Cyber Security Team / Kathy Ellis, Jamie Hastings-Smith, Meghan Hower, Kristin Keys, Timeshia Keys, Tory Miller, Dylan Wages, Matt Wilson, Jonathan Yorkowitz and Chessie Zappia
This group produced an event that demonstrated seamless teamwork and dedication to educate campus constituents on the importance of working together to ensure digital security on campus. The event produced great working relationships between several campus groups including the Krannert Memorial Library, Student Affairs, Indiana Student Government, Dining Services and IT.
Connecting Expertise with Action Award: Kevin McKelvey, Program director, Social Practice Art graduate program / Associate Professor of English 
Kevin plays a role in several important programs on campus and in the broader Indianapolis community. In his role as director of the social practice art graduate program, he guides students to build bridges between their academic work and the world around them. He also helps students find internships and other professional opportunities. His involvement with Indy Food Council and Big Car Collective allows him to practice what he teaches, connecting expertise with action. His work as a teacher, writer and artist is deeply and intentionally connected to the community. 
Education for Service Award: Dr. Krista Latham, Associate Professor of Biology and Anthropology
Krista is well-known for her pro-bono work recovering undocumented immigrants' remains in the Texas borderlands. In the past two years, she made four trips to conduct humanitarian work in Texas, engaging graduate and undergraduate students in hands-on forensic science training, community outreach, and issues related to global citizenship. In 2017, in her role as director of the UIndy Human Identification Center, she consulted on five forensic DNA cases, 20 human remains cases and screened 29 non-human cases for lawyers, police and coroners.
Institutional Leadership Award: Dr. Terry Schindler, Assistant Professor of Management, School of Business
Terry spent a good portion of his professional career working with groups to help them perform more effectively as a unit. He is co-founder of the Center for Postindustrial Leadership, which is devoted to developing a new generation of leaders, and volunteers his time to consult with various groups on campus.
Emerging Scholar Award: Dr. Katie Boucher, Assistant Professor of Psychology
Katie has published five research papers during the past academic year, developing an impressive research protocol in her personal and collaborative research. Her research focuses on fostering student success and reducing achievement gaps. She has been working with colleagues on a grant-funded project to examine these issues, and is beginning a large-scale research project with the College Transition Collaborative to develop and test tools to improve student outcomes in gateway STEM courses.
Emerging Scholar Award: Dr. Paul Salamh, Assistant Professor,  Krannert School of Physical Therapy
Paul has a passion for the scholarship of teaching, learning and exploring factors impacting physical therapy student learning. He has already established research partnerships with faculty at Duke University, where he completed a faculty residency program and served as instructor before coming to UIndy. With expertise in orthopedics, focusing on shoulder injury and rehabilitation, he has established a solid, collaborative research agenda, serving as a co- or lead author on seven papers in peer-reviewed journals over the past academic year. 
Outstanding Faculty Award: Dr. Lisa Borrero, Assistant Professor, College of Health Sciences
With split faculty positions within the College of Health Sciences, Lisa has seamlessly interwoven her passion and expertise for qualitative research. She has responsibilities in the Doctor of Health Science and gerontology programs and uses her expertise to support students. She serves as a chair or analysis expert on doctoral projects and spent the past academic year engaged in data collection on two interdisciplinary research projects. 
Outstanding Faculty Award: Cindy Bowers, Assistant Professor, School of Nursing
Cindy is dedicated to producing the best possible outcomes for the School of Nursing & its students. This year, she became the coordinator for the Doctor of Nursing Practice program and has been diligently updating curriculum for the program. Under her guidance, students have developed their own scholarship efforts and published doctoral work. She has developed graduate level student writing as a co-author on two student publications in peer-reviewed journals, and brings the best academic practices to UIndy as a national CCNE accreditation evaluator. Blending science with caring, she exemplifies what it means to be an expert teacher, scholar and mentor. 
Outstanding Scholar Award: Dr. Amanda Miller, Associate Professor and Chair of Sociology
Amanda has made significant contributions to major sociological journals. In 2018, she published a co-authored book, "Cohabitation Nation: Gender, Class and the Remaking of Relationships." This work earned her the William J. Goode Award, which is the top award in the Family section of the American Sociological Association, ushering her into an elite group of "greats." She is frequently sought after by national and local media as a guest expert, appearing in the New York Times, Wall Street Journal and NPR – to name a few. Her scholarship goes hand-in-hand with her teaching and leadership within the sociology department. 
Outstanding Scholar Award: Dr. Gaoming Zhang, Associate Professor, Department of Teacher Education
In the last academic year, Gaoming presented at 11 conferences, including one as keynote, and published articles in four publications. She received the best paper award on the topic of "global perspective and implications for school leadership" at the international conference on Learning and Administration in Higher Education at Vanderbilt University. Her research advances knowledge in educational media, hypermedia and telecommunications. 
Teaching in the Core Award: Dr. Greta Pennell, Professor of Teacher Education
Greta supports a critical foundation for the general education curriculum through the creation of a course that engages and challenges students and fosters student growth and outreach beyond UIndy. She shares her expertise and experiences with faculty colleagues to help them create their own pathways into this key feature of the first-year experience. Working with freshmen in a first-year seminar, Doing Gender in Toyland, she uses her expertise on gender identity, toy advertising and conceptual change processes to model the research process for students. 
Congratulations to all recipients!