Foreign journalists receive UIndy education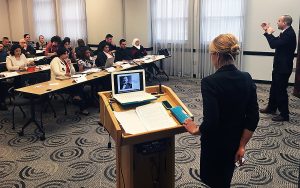 History & Political Science faculty members Laura Albright and Edward Frantz speak this morning to foreign journalists on a State Department press tour.
A group of 24 foreign journalists came to UIndy today for a crash course in U.S. politics and next week's Indiana primary.
Hosted by the State Department, the reporters are on a week-long U.S. tour to cover the presidential campaigns. They represent print, broadcast and online news outlets across Asia, Europe, Africa and South America.
History Professor Edward Frantz and Assistant Professor of Political Science Laura Albright delivered a 90-minute morning presentation to the group, which also heard remarks from UIndy adjunct instructor and local political pundit Abdul-Hakim Shabazz.
During lunch in Esch Hall with faculty, staff and students, the journalists also got a firsthand lesson in municipal government from former Indianapolis Mayor Greg Ballard, now a Visiting Fellow at UIndy's Institute for Civic Leadership & Mayoral Archives.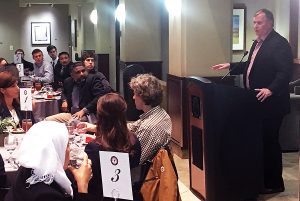 UIndy Visiting Fellow Greg Ballard shares some stories with foreign journalists as well as faculty and students over lunch in the Esch Hall atrium.