Greyhounds getting into the '500' spirit
May in Indianapolis means UIndy Commencement, of course – it's this Saturday – but there's also a little thing called the Indy 500, which happens to be running for the 100th time this year.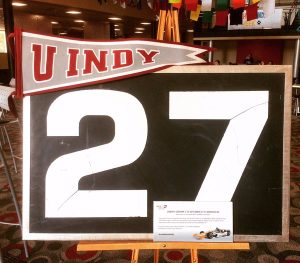 The UIndy campus is one of 33 sites in the city chosen by the 100th Running Host Committee for a social media campaign called #CountdowntoIndy. A number panel from the 97-foot scoring pylon that graced the front stretch of the Indianapolis Motor Speedway from 1994 to 2014 is on display today in Schwitzer Student Center. Visitors are encouraged to snap photos and share them on social media with the hashtag #countdowntoindy.
In other IMS news, UIndy alumnus Adam Henze is the winner of the host committee's contest to crown the "Official Poet for the 100th Running of the Indianapolis 500 presented by PennGrade Motor Oil."
Henze graduated from the Master of Arts in Teaching program in 2012, is now an educator and a doctoral candidate at Indiana University in Bloomington, as well as a touring performance poet. He'll receive $1,000 cash and two tickets to the race, and his winning poem, "For Those Who Love Fast, Loud Things," will be published in the race day program. He also will read the piece at the Speedway during qualification weekend.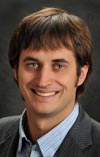 A poem written by Associate Professor of English Kevin McKelvey also made the Top 33 out of more than 200 submissions from around the world. The contest revives a tradition from the 1920s, and McKelvey, also an active poet, was pleased to participate.
"I was totally obsessed with the race when I was growing up," he explains. "I think it's pretty great they are going to publish a poem in the program again."
Read the top submissions here. McKelvey and other contributors will read their work at a Porch Party Poetry Reading from 6:30 to 8 p.m. Friday at Indiana Humanities. More information is here.