SAL names Director for Strategic Partnerships
UIndy's School for Adult Learning has appointed a Director for Strategic Partnerships, who will build industry connections and develop professional training opportunities in the new Division for Professional Engagement.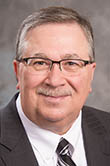 Bob Calliotte brings to the new position more than 30 years' experience in a broad range of business sectors. He comes to UIndy from Ivy Tech, where he served most recently as Corporate College Executive.
In his UIndy role, Calliotte will develop and oversee all non-credit bearing opportunities, including establishing key education centers, creating a professional badging system and soliciting industry partnerships. He also will develop virtual training opportunities for corporations and businesses.
An engineer by training, his previous posts have included customer service manager for Wabash National Corp., national account director for Brightpoint North America and utility sales account manager for General Electric.
"The scope of Bob's experience in advanced manufacturing, logistics, energy, education and other fields makes him ideally suited for the work of building relationships and developing solutions for Indiana employers," said Judith Apple-VanAlstine, dean of the School for Adult Learning.
Calliotte holds a bachelor's degree in electrical engineering from the University of Arkansas and an MBA from Butler University. He is a Certified Program Planner, Certified Contract Trainer, Certified Extended DISC Instructor and Six Sigma Green Belt.
He lives in Indianapolis with his wife, Angela. Personal interests include golfing and wildlife conservation.
More information about the School for Adult Learning is available at www.uindy.edu/sal.