Forensics team continues Texas migrant project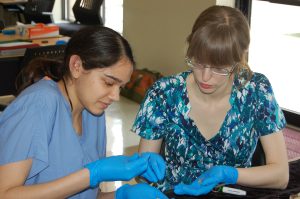 UIndy Human Biology master's degree candidates Amanda Khan (left) and Helen Brandt analyze skeletal remains in a laboratory at Texas State University.
Associate Professor Krista Latham and the graduate students of UIndy's Archaeology & Forensics Team are back in Texas for the fourth consecutive summer, volunteering their time and expertise to help identify undocumented migrants who have died after crossing the border.
On previous visits, the crew spent most of their time in a small cemetery, exhuming the remains of men and women whose bodies were found and buried without identification. This year, the group is primarily working at Texas State University, analyzing skeletal remains for clues to their origin. They also will work with the South Texas Human Rights Center and other organizations to identify other cemeteries where migrants have been buried.
Along with Dr. Latham, a forensic anthropologist, this year's contingent includes UIndy colleague Dr. Alyson O'Daniel, a cultural anthropologist; Human Biology master's candidates Amanda Khan, Justin Maiers and Ryan Strand, veterans of previous Texas trips; and fellow grad student Helen Brandt, a first-timer.
The group left Sunday and will return May 18. Read their blog posts and see their photos and video at beyondborders.uindy.edu.
Read previous stories about the Beyond Borders project here.