Longtime football coach Bill Bless passes on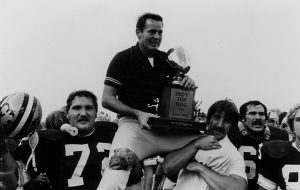 Bill Bless and his Greyhounds celebrate a 1977 victory over the Butler Bulldogs.
Greyhound Nation lost a living legend last week with the passing of Bill Bless, who earned the most wins in University of Indianapolis football history (114) as head coach from 1972 to 1993.
The Greenwood resident graduated from Indiana Central (as UIndy was known) in 1963 and also served as head track coach for 19 years and a faculty member for 29 years. He died May 6 at age 76. Survivors include his wife, Beverly, along with children and grandchildren who include several UIndy alumni.
A member of the Indiana Football Hall of Fame as well as the UIndy Athletics Hall of Fame, Bless also coached at Whiteland, Mooresville and Greensburg high schools during his career. Outside of football, he served six years on the Greenwood City Council and one year as acting mayor.
Bless' passing was noted by Fox59, Inside Indiana Business and other news outlets. Read more at the UIndy Athletics website. To see a full obituary and share memories and condolences, click here.