Business leader named to Board of Trustees
University board also announces new officers for 2016-2018
Paper industry executive Kenneth Loyd has been named to the Board of Trustees at the University of Indianapolis.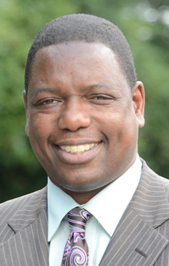 Loyd is president of South Coast Paper, a paper converting, sales and marketing company. South Coast Paper is headquartered in Columbia, S.C., with a manufacturing facility in Maplesville, Ala., and sales offices in Atlanta, Houston and New Orleans. He co-founded the company in 2000 after a successful career with Champion International Paper, where he was the first African-American national sales manager in the company's 105-year history.
After earning a bachelor's degree and serving as captain of the basketball team at Xavier University of Louisiana, Loyd went on to earn an MBA from Case Western Reserve University. He also completed the NMSDC Advanced Management Education Program at Northwestern University's Kellogg School of Management as well as the MBE Executive Management Program at Dartmouth College's Tuck School of Business.
Loyd joined the Board of Trustees at its May meeting, which also included the election of these board officers for 2016-2018:
Chair: Yvonne H. Shaheen, CEO (retired), Long Electric Co.
Vice Chair: Stephen F. Fry, Senior Vice President, Human Resources & Diversity, Eli Lilly & Co.
Secretary: Phillip A. Terry, CEO, Monarch Beverage Co.
Immediate Past Chair: Thomas C. Martin, President, Bloomington Ford
Treasurer: Michael P. Holstein, Vice President, CFO and Treasurer, University of Indianapolis.
"My interactions with the University of Indianapolis have been outstanding," Loyd said. "I've witnessed the university's incredible leadership and strong academic presence under President Robert Manuel. I also appreciate how Yvonne Shaheen and the Board of Trustees have positioned the institution for continued growth. And I would be remiss if I did not mention my son's amazing experience as both a scholar and member of the men's basketball team at the University of Indianapolis. I am honored and look forward to contributing to this culture of excellence while serving on the Board of Trustees."
Loyd and his wife, Andrea, live in Marietta, Ga., and have two children. Their daughter, Tayler, is also a Xavier University graduate, now working as a marketing associate with General Mills in Minneapolis. Their son, Jordan, has been a standout on the University of Indianapolis basketball team and graduated this month with a bachelor's degree in Environmental Sustainability. Loyd has been active in supporting his church and several public schools in Georgia, as well as coaching youth basketball and helping young men get into college.