Women's golf nearly repeats national title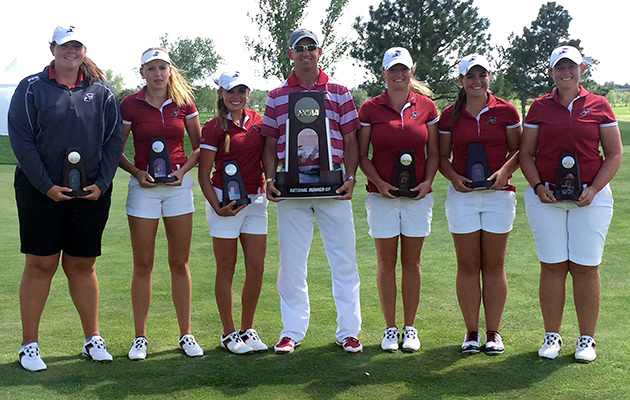 Hoisting their NCAA national runner-up hardware are Greyhound women's golf Assistant Coach Lyndsey Bevill, Katharina Keilich, Paxton DeHaven, Head Coach Brent Nicoson, Brooke Beegle, Kylie Raines, and Molly Ward.
The UIndy women's golf team capped a stellar season Saturday by coming within nine strokes of repeating last year's NCAA D-II National Championship.
Leading the team to a runner-up finish behind Rollins in Aurora, Colo., were freshman Katharina Keilich (76-72-70-73) and sophomore Paxton DeHaven (77-73-70-74), both of whom landed in the Top 10. Senior Brooke Beegle (74-70-76-79) tied for 20th in her final college event. Read more about the championship action here.
The Greyhounds made their return trip to nationals after posting their fifth-straight conference and regional championships. In Great Lakes Valley Conference honors, Keilich was named both Freshman and Player of the Year, and Head Coach Brent Nicoson was tapped for his fourth-straight GLVC Coach of the Year award. Read more about those and other honors here.