Greyhound alumni keep Indy 500 on track
Watch UIndy alumnus Adam Henze, official poet of the 100th Running of the Indianapolis 500, recite his winning entry, "For Those Who Love Fast, Loud Things," courtesy of WFIU and NPR.
Without the University of Indianapolis and the tremendous life preparation it provides, could there even be a "100th Running of the Indianapolis 500 presented by PennGrade Motor Oil"?
Well, probably, but it sure wouldn't be the same. While we can't name them all, here are just a few of the Greyhound alumni who are making this year's Greatest Spectacle in Racing as great as it is. We might as well call this thing the UIndy 500.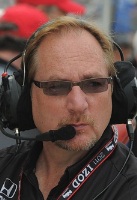 Let's start with university trustee and alumnus Dennis Reinbold, who earned a bachelor's degree in Business Administration from UIndy on his way to becoming president and CEO of high-end auto dealership Dreyer & Reinbold. He's also the owner of Dreyer & Reinbold Racing, which this year is running 21-year-old driver Sage Karam in the No. 24 Gas Monkey Energy Chevrolet. NBC Sports has a nice story about the Dreyer/Reinbold family's long history at the Speedway, which dates to the 1920s. Read it here.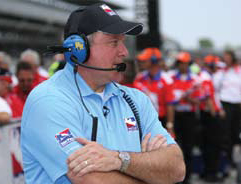 Brian Barnhart, who earned a bachelor's degree in Political Science at UIndy, has been involved with IMS and IndyCar since the early '90s, and he previously worked as a mechanic for such legends as A.J. Foyt and Al Unser Jr. He currently serves in the crucial role of vice president of competition for IndyCar and race director for the Verizon IndyCar Series, overseeing the race-control staff, timing, scoring, rules compliance and the safety and medical teams.
Alum Adam Henze '12, on the other hand, is new to the IndyCar world, but he sure is making a splash this year as Official Poet of the 100th Running. A graduate of UIndy's Master of Arts in Teaching program, Henze is an educator, a doctoral candidate at IU-Bloomington and a touring performance poet. From more than 200 submissions, the 100th Running Host Committee selected his entry, "For Those Who Love Fast, Loud Things," to be included in the race-day program, reviving a tradition from the 1920s. You can watch him recite the poem on the websites of NPR and WISH-TV, and Indianapolis Monthly has this Q&A.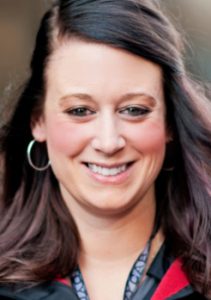 Brie Rentz '09 interned with the 500 Festival and scored a full-time job with Dreyer & Reinbold Racing while still finishing her Sports Marketing degree at UIndy. She now serves as communications director for Ed Carpenter Racing.
Sport Management grad Katie Schultz '10 is marketing coordinator for the Indianapolis Motor Speedway. The IMS ticket office boasts two UIndy alumna as customer service representatives: Alicia Dalrymple '11 majored in Sport Management, and Lauren Kaper '08 majored in Sports Marketing.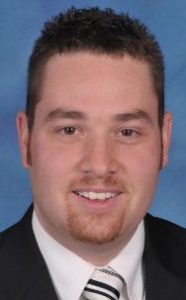 Marketing graduate Joshua Reichart '08 also interned with the 500 Festival while still a UIndy student and parlayed that into a series of full-time responsibilities.
He now serves as the festival's client services and activation manager, overseeing relationships with sponsors.
Now, back to PennGrade Motor Oil, the first presenting sponsor in the history of the Indy 500. As it turns out, the president and CFO of parent company D-A Lubricant is Gisela Miller, who earned both her bachelor's degree and MBA from UIndy. (The Speedway has a nice story here about her interesting personal background and longtime interest in the race.) Sophomore Marketing major Claire Gilbert is working with D-A right now as an intern for Klipsch Marketing Advisors.
Apologies to anyone we've missed. If you play a key role in making the race happen, please fill out this online form so we can include you.