UIndy Votes! Student registration drive engages community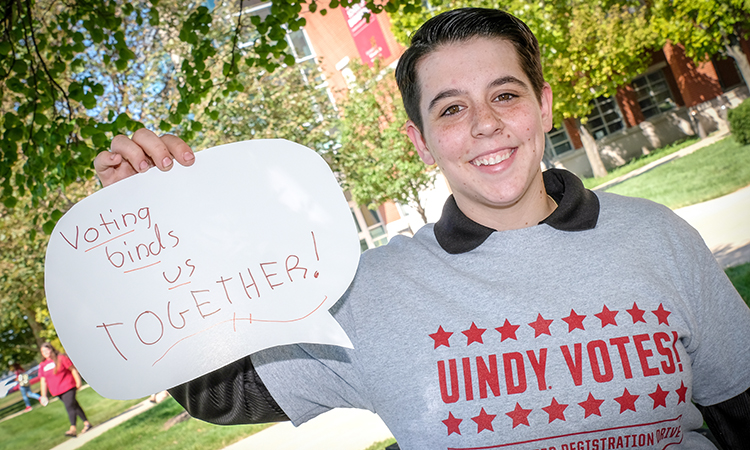 As the 2018 midterm election heats up, University of Indianapolis students are getting involved with a hands-on voter registration project.
UIndy Votes! is a nonpartisan group that aims to register and educate voters on and off campus during election years. Organized by Laura Wilson, assistant professor of political science, activities include a workshop on how to register voters, voter registration tables, voter canvassing in nearby University Heights neighborhoods, guest speakers and a mini-lecture series during September and October, culminating with an election night watch party Nov. 6.
UIndy Votes! originated in 2016 as an extension of Wilson's campaigns and elections class. She was looking at ways for students to get campaign experience as a class. A voter registration drive proved to be the perfect fit.
"I wanted them to have hands-on practice with what we were discussing in the classroom," Wilson explained. "It's about getting people excited to participate. Registration is the requirement, but we also want people to be educated about the voting process."
To cover expenses for the 2018 UIndy Votes! drive, Wilson received a $1,500 election engagement grant from Indiana Campus Compact (ICC). The group also provided a grant for the 2016 voter registration drive.

UIndy Votes! has 32 student volunteers, plus six faculty and five staff volunteers, with Wilson acting as faculty project director.
Ally Nickerson '21 (political science and communication, honors concentration) is the student project director, responsible for planning, organizing and recruiting. Nickerson handles communications, attends state-wide training sessions, leads many of the canvassing and registration events and reports on project outcomes.
"I'm grateful to Dr. Wilson for providing such an engaging opportunity to grow my skills and effect political change in the UIndy community," Nickerson said. "Working with the student and faculty board has helped me develop a strong team spirit and enthusiasm for changing the political climate on campus. My work with ICC is providing a foundation in research and reporting skills that will be highly beneficial in conducting my honors and department projects as a senior."
The twin goals of UIndy Votes! are to register student voters and to engage the local community by encouraging nearby residents to vote. By participating in the service-learning project, students are giving back and having an impact.
"We want to be actively involved in our surrounding community. What we're doing really matters. I want my students to be proactive and to be out there," Wilson said.
Education is a key component of UIndy Votes! UIndy students participating in the drive will conduct a fourth grade election activity at Jeremiah Gray Elementary. On Oct. 17, students are invited to attend a Constitution Day crash course co-sponsored by the Honors Student Association. On Oct. 22., Wilson and other faculty will offer a "know your candidates" panel discussion in the Trustees Dining Room.
Nickerson said voter registration drives can take the confusion out of a complicated process.
"When faced with difficulties in determining when, where and how to vote, voter registration drives serve as a clear and competent source to guide voters through the process. Indiana specifically has historically low voter turnout rates, and UIndy Votes! aims to provide equal opportunity for political engagement to the community," she said.
Full list of UIndy Votes! Activities:
Sept. 17: Constitution Day Crash Course, UIndy Hall C, 7 p.m., featuring Honors Student Association President Corey Nack and faculty. L/P credit.
Sept. 24-28: Voter registration table outside the Schwitzer dining hall, noon- 2 p.m.
Sept. 24-28: Voter registration table at Baxter YMCA, 5-7 p.m.
Oct. 22: Know Your Candidates panel discussion, Trustees Dining Room, 7 p.m. L/P credit.
Follow UIndy Votes! on Instagram, Twitter and Facebook.