MBA students visit innovative manufacturer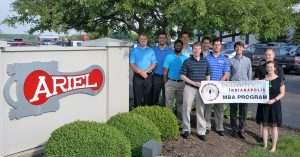 Students from UIndy's one-year, full-time MBA program got a firsthand lesson in manufacturing and management last week on an out-of-state field trip.
Led by graduate programs director and Assistant Professor Steve Tokar, the group visited privately held Ariel Compressor Corp., based in Mt. Vernon, Ohio.
Ariel was founded in 1966 by Jim Buchwald, an engineer who brought a unique approach to relationships with customers, suppliers and employees alike. The company, which makes compressors for the natural gas industry, has built a market share of over 80 percent against much larger competitors by focusing on timely delivery and structuring its operation in self-directed teams that are responsible for their own quality, scheduling and maintenance.
"He believes that the people closest to the work know more about how to do their jobs than any supervisor," Tokar said.
The visit certainly made an impression on student Garrett Sheets, who double-majored in Biology and Chemistry as a UIndy undergrad before entering the MBA program. He said the facility visit brought to life some of the lessons he and his classmates learned in their operations courses.
"You really only learn what you see in practice," said Sheets, an Indianapolis native and Roncalli High School grad. "It was nice to see things we've talked about in class being implemented at such a successful company."
The million-square-foot Ariel plant was quiet and extremely clean, he noted.
"They utilize self-directed work teams, and they kind of manage themselves," said Sheets, who will receive his degree in August and plans to work full-time at a biotherapeutics consulting firm where he began interning last year. "Everything was extremely efficient, you could tell."
Buchwald was generous with his time, Sheets added, sharing two meals with the UIndy visitors and answering all of their questions.
"I was struck by the fact that the founder was willing to sit and talk with a group of students," Sheets said. "We're lucky that the university gives us such good exposure."