Student archaeology projects draw attention
Famous 'grave in the road' had seven occupants, researchers find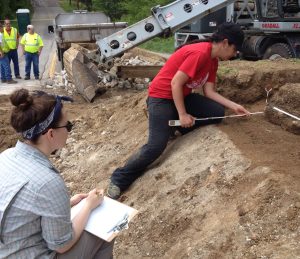 As noted in UIndy News last month, Dr. Christopher Schmidt of the Department of Anthropology has been working with students and colleagues on a job for Johnson County officials: In conjunction with a road improvement project, they were asked to exhume, examine and re-inter the remains of Nancy Kerlin Barnett, presumed occupant of the legendary 1831 "grave in the middle of the road" south of Franklin.
What they found, however, has caused quite a stir. The gravesite contained not one, but seven sets of human remains — three adults and four children — adding more intrigue to a story that has captivated local residents and travelers for decades.
To learn all the details and unanswered questions, check out this week's coverage in the Indianapolis Star, WISH-TV, WTHR, WXIN, WRTV, Indiana Public Media, USA Today, Archaeology.org. The CBS Radio News network and scores of news outlets throughout the Midwest carried the story after it was picked up by the Associated Press.
Schmidt will be interviewed Saturday on Hoosier History Live! with host Nelson Price, which airs from noon to 1 p.m. on UIndy's WICR-88.7 FM/HD. Read a preview here.
Carroll County project featured in WISH-TV's Bicentennial series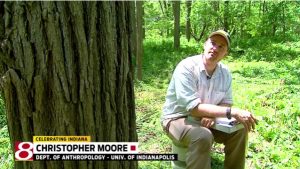 As noted in UIndy News last year, Dr. Christopher Moore of the departments of Anthropology and Earth-Space Science has been directing students and educating the public through an extended exploration of a historical site in Carroll County, Ind. The Baum's Landing site offers a unique window into 19th century life in rural Indiana, and the effort has been declared an official Bicentennial Legacy Project by the 2016 Indiana Bicentennial Commission.
It's not surprising, then, that WISH-TV would feature Moore and his students in its series of Bicentennial Minute reports. The piece is actually about three minutes long, and you can watch it here.
Moore, himself a UIndy alumnus, also has been involved in the Barnett grave project, by the way.