Gallery shows include record-breaking artist
The 2016-2017 visual arts season at UIndy's Christel DeHaan Fine Arts Center Gallery will feature work by faculty, alumni, students and other local, national and international artists, including one whose preferred medium is broken vinyl records.
Indianapolis-based Lobyn Hamilton literally cuts and smashes LPs — and their covers — into pieces that he then applies as collage elements to add color and texture to images on the canvas. His work has been seen on the hit TV series Empire and in the collection of multimedia artist-tycoon Kanye West.
"The vinyl record is my weapon of choice," Hamilton says in his artist statement. "Think of high contrast, with two tones generally based on positive and negative space. Most of my work plays on filling the positive space with vinyl records and album covers. … My work is both pop and political in nature, but figurative. The work is often inspired by the recording on the album or the person behind the recording of that album."
Hamilton's exhibition, The Breaks, opens Oct. 10, with a reception from 4 to 6 p.m. in the gallery.
The season opens Aug. 29 with Deconstructions: New Work by Michal Lile. Lile, who earned his UIndy Master of Arts in Art degree in 2002 and now serves as a local school administrator, is forgoing his usual painting and instead repurposing 3-D objects into works that "explore sociopolitical entropy as they poke fun at the melodrama of a relationship in collapse," he says.
The Christel DeHaan Fine Arts Center Gallery presents several exhibitions of two- and three-dimensional art each year, curated primarily by UIndy faculty member Mark Ruschman, chief fine arts curator for the Indiana State Museum and Historic Sites. Viewing hours are 9 a.m. to 9 p.m. weekdays, and admission is free.
The 2016-2017 season is as follows: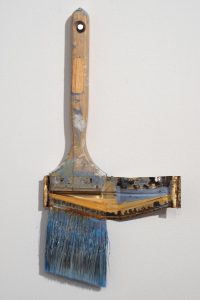 Deconstructions: New Work by Michal Lile
Aug. 29 through Sept. 30
Reception: 4-6 p.m. Aug. 29
The Breaks: Lobyn Hamilton
Oct. 10 through Nov. 4
Reception: 4-6 p.m. Oct. 10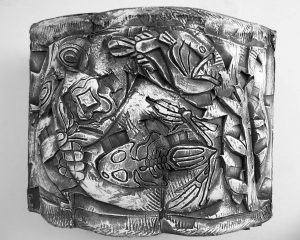 UIndy Art & Design Faculty Exhibition
Nov. 14 through Dec. 16
Reception: 4-6 p.m. Nov. 14
Faculty from UIndy's Department of Art & Design showcase their own work in ceramics, graphic arts, painting, drawing, photography and printmaking.
Letterpress Hullabaloo
Jan. 17 through Feb. 10
Reception: 4-6 p.m. Jan. 23
This invitational exhibition of contemporary printers and bookmakers examines the history and current practice of letterpress, the original technique of printing with an inked, raised surface. Printers from around the nation have been selected based on their Indianapolis connections, preservation of historical practices and contemporary innovations.
Herencia
Feb. 20 through March 15
Reception: 4-6 p.m. Feb. 20
The multicultural arts organization Nopal Cultural presents this visual art exhibition showcasing work from national, international and local artists. Herencia – the Spanish word for heritage – showcases artists working in themes inspired by Latin American heritage.
Art & Design Juried Student Exhibition
April 3 through May 6
Reception: 4-6 p.m. April 3
This annual juried exhibition showcases the art and design work of UIndy students.
More information and updates on gallery exhibitions are available at (317) 788-3253 or www.uindy.edu/arts/art.