Senior Katie Lutzmann earns top student honors at Midwest Archaeological Conference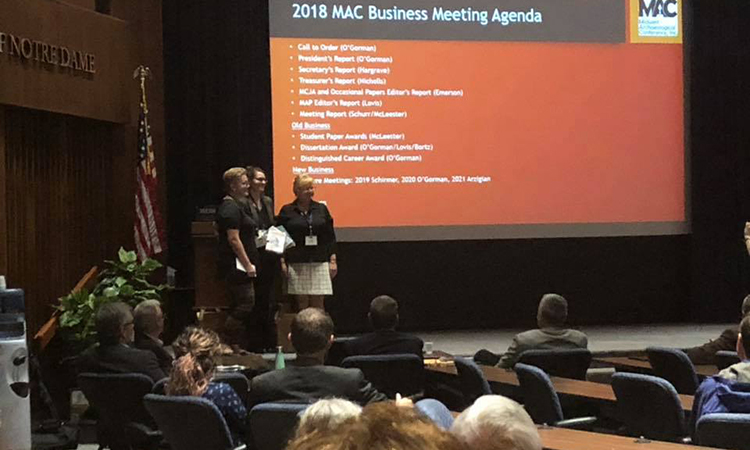 Katie Lutzmann '19 (archaeology and anthropology) was recognized as the 2018 winner of the undergraduate student paper competition at the Midwest Archaeological Conference in South Bend. Christopher Moore, associate professor and chair of anthropology, also attended the conference.

Lutzmann, who is president of ARCHAIC, the University of Indianapolis Archaeology and Anthropology Interest Club, presented "A Study in Ceramic Decoration and Socio-Economic Status of the Baum Family," which involved the study of ceramics found at Baum's Landing, one of the first historic settlements in Carroll County, Indiana, established in 1825.
"The goal of this project is to determine whether the socio-economic status shown by the decorative ceramics matches that of historical record," Lutzmann explained.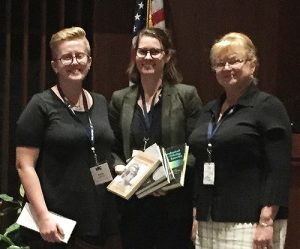 Lutzmann said she was grateful for the guidance she received from University of Indianapolis anthropology faculty.
"Throughout my career here at UIndy, Dr. Christopher Moore, Dr. Christopher Schmidt, and Dr. Alyson O'Daniel have profoundly cultivated and encouraged my interest and knowledge in anthropology and archaeology," she said.
Related: Christopher Moore publishes booklet on Baum's Landing research
Lutzmann noted it was her first time attending and presenting research at a conference.

"In terms of this project, Dr. Moore guided me when I got off track, edited my paper and checked my work along the way, and supported me at the conference. Without his help, I would not have the knowledge and confidence I had at the conference."
"The Shaheen College's commitment to undergraduate research is exemplified in students like Katie who are able, through a combination of hard work and sustained faculty mentorship, to transform their classroom experiences into original scholarly contributions. Undergraduate research experiences like presenting at MAC contribute to a culture of scholarship on campus that greatly enhances the quality of our academic programs. Katie's success illustrates the good work we are doing here," Dr. Moore said.
Following graduation from the University of Indianapolis, Lutzmann plans to attend East Carolina University to obtain her master's degree in maritime studies, which refers to nautical and underwater archaeology.

Learn more about the University's achaeological field school at Baum's Landing.