Former, future Greyhounds go for the gold
Swimming World magazine conducted this interview with Dalton Herendeen just before he secured a spot on the U.S. swim team for the 2016 Paralympics in Brazil.
Two UIndy-connected swimmers — one a recent grad, the other arriving this year as a freshman — will be representing their nations this summer in Rio de Janeiro.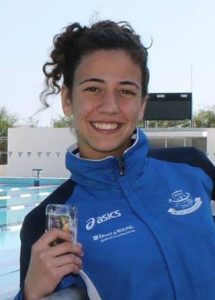 Incoming first-year student Sotia Neophytou (sometimes spelled Neofytou) is one of only two swimmers from Cyprus selected to compete in the 2016 Summer Olympics. She will swim the 100-meter butterfly next month.
Dalton Herendeen, who graduated in 2015 with a bachelor's degree in Exercise Science, is one of just 10 U.S. men tapped to swim in the 2016 Paralympic Games in September. The partial amputee, who swam in standard high school and college meets, is a veteran of international competition, having gone to the 2012 Paralympics in London and other major events. Click above to watch an interview with Swimming World magazine, or read this story in his hometown paper, the Elkhart Truth.
Learn more about both swimmers at the UIndy Athletics site.
Earning honorable mention in our Olympics coverage is 2014 grad Jermel Kindred, an All-American sprinter and hurdler in his UIndy track and field days.
The holder of five Greyhound records earned a trip to last week's U.S. Olympic Trials in Oregon, but did not quite make the cut for Rio. Read about his bid in the South Bend Tribune.