Dedication Thursday for Greyhound Village

Greyhound Village is on the east side of Shelby Street, adjacent to a planned station on the bus rapid transit Red Line that soon will connect the UIndy campus to Fountain Square, downtown, Broad Ripple and key points in between.
New apartments seen as catalyst for development; Mayor Hogsett to speak
The community is welcome and Mayor Joe Hogsett will be among the speakers Thursday, when the University of Indianapolis conducts a dedication ceremony for the new 486-bed Greyhound Village student apartments.
The project not only will set a new standard for campus housing, but it also is eyed by university and city officials as a key step in attracting economic development to the Shelby Street corridor and its intersection with Hanna Avenue, enhancing quality of life for the surrounding community. UIndy President Robert Manuel is expected to share further details of that vision during the ceremony.
The four-story Greyhound Village building is adjacent to the planned site of a key station on the bus rapid transit Red Line that will connect UIndy to Fountain Square, the downtown area and Broad Ripple as early as 2018. Students and neighborhood residents alike will have much faster and more convenient access to workplaces, government offices, shopping and dining opportunities and cultural, educational and recreational attractions.
The ceremony will begin at 10:30 a.m. Thursday, Aug. 11, at Greyhound Village, 3701 Shelby St., with a reception and building tours to follow. Other speakers will include CEO Gene Zink of project developer Strategic Capital Partners, UIndy Board of Trustees Chair Yvonne Shaheen and graduate student Erin Jackson, who will live in the new facility. Representatives of architect Schmidt Associates also will be available to discuss new trends in student housing.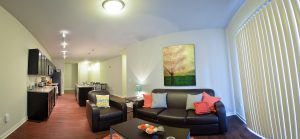 An apartment in UIndy's new Greyhound Village, which offers privacy, space and amenities aimed at upperclassmen and graduate students.