Vote for UIndy facilities in Chamber contest
Two of UIndy's freshest facilities – the Health Pavilion and the renovated Krannert Memorial Library – are nominated in multiple categories for the Indy Chamber's annual Monumental Awards, which recognize great landscape architecture, interior design, neighborhood revitalization, architecture, design, engineering, construction and public art around the city.
For the first time, the chamber has added a People's Choice Award category, which allows the public to vote via Facebook for the construction project they feel has had the greatest impact on the Indianapolis area. Voting continues through Friday, and the awards will be announced at the Monumental Awards Dinner on Oct. 20.
That means UIndy fans with Facebook accounts have just a few more days to secure a victory for the Greyhounds. All you have to do is visit each of the links below and "like" the photo that appears. And yes, you can vote in all six relevant categories.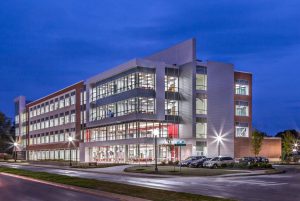 UIndy Health Pavilion
Category: Architecture
http://bit.ly/uindyHPaward
Category: Real Estate Development
http://bit.ly/UIndyHPaward-2
Krannert Memorial Library renovation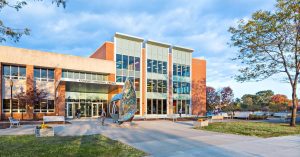 Category: Innovative Reuse
http://bit.ly/KMLaward
Category: Interior Design
http://bit.ly/KMLaward2
Category: Architecture
http://bit.ly/KMLaward3
Category: Construction
http://bit.ly/KMLaward4
For the curious, the Indy Chamber's full photo album of nominees can be viewed here.