New engagement space helps students connect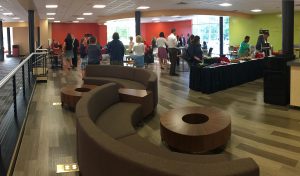 The renovated space in Schwitzer Student Center will double as an informal lounge area as well as a site for students to access career counseling and other services.
Along with several other new and improved facilities on campus — most notably Greyhound Village apartments and the substantial interior renovations of Martin and Lilly halls — UIndy students returning for the fall semester will find a new space with a specific purpose in Schwitzer Student Center.
Informally dubbed the "engagement center" for now, the revamped section of the Schwitzer Atrium is designed to help students connect — with each other, with Professional Edge Center and Student Affairs staff and services, and with the world, through wall-mounted digital monitors fed by a system of wired and wireless connections.
The Professional Edge Center — which helps students identify career pathways, interact with business professionals and develop professional and interpersonal skills — moved this summer from Stierwalt Alumni House, south of Hanna Avenue, to the second floor of Schwitzer, the key social and services hub on campus. Corey Wilson, associate vice president for Professional Edge, said the new first-floor space outside the dining hall gives his staff an even better opportunity to "engage students where they live."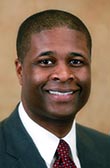 "This is kind of our second office, if you will," Wilson said.
Hardwood floors and movable modular furniture create a stylish and flexible venue for small gatherings and presentations, with quick access to The Perk coffee shop. The engagement center also will feature four flatscreen monitors — 90, 70, 70 and 55 inches across — that can connect wirelessly to laptops for web access and viewing of resumes and other documents. When not in direct use, the screens can display live social media and news feeds, and after hours, they can connect to cable television.
For fans of the ping pong and pool tables that previously occupied the space, fear not. The tables are just around the corner in the west lounge area.