University of Indianapolis announces 2016 Alumni Awards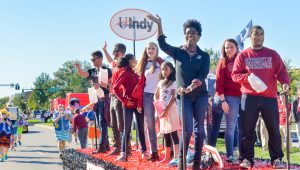 The University of Indianapolis Alumni Association is pleased to announce the recipients of the 2016 Alumni Awards:
2016 UIndy Distinguished Alumni Award — Dr. James Hurrell '84, Westminster, Colo.
2016 UIndy Distinguished Young Alumni Award — Nikki Reed '07, Indianapolis
2016 UIndy Distinguished Faculty/Staff Alumni Award — Rebecca Cartledge '06, Indianapolis
2016 UIndy Education for Service Award — Dr. Ronald Morris '86, Centerville, Ind.
2016 UIndy Honorary Alumni Award — Robert and Marjorie Begeman, Franklin, Ind.
2016 UIndy Gene and JoAnne Sease Award — Kendall '62 and Georgia '65, '72 Hottell, Indianapolis
The award winners were announced at a dinner and awards ceremony in Indianapolis on October 8 as part of the University's Homecoming celebrations. Presiding over the ceremony was UIndy Alumni Board member and news editor of NUVO, Amber Stearns.
The University of Indianapolis Alumni Awards promote and recognize excellence among University alumni and supporters, both in their careers and their communities. The Alumni Awards also recognize dedication, service and commitment to the University.
"Selecting alumni to honor each year is a difficult task given that so many of our graduates are deserving of having their accomplishments recognized," said Anita Samuel, University of Indianapolis Alumni Association President. "We are very proud of our 2016 Alumni Award recipients who have been both wonderful leaders in their respective communities and dedicated ambassadors for their alma mater."
For more information about the University of Indianapolis Alumni Awards, and for photos, please visit www.UIndy.edu/alumni/award-winners.
To watch videos about each winner, visit https://www.youtube.com/playlist?list=PL3D8rfzfyQXjLpUhbBySMXUc4PysyX79K