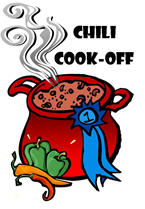 Do you think that you make a mean bowl of chili, stew or soup? Well, it's time find out! The School of Physical and Occupational Therapy will be sponsoring the eleventh annual chili cook-off on Wednesday, Nov. 28th to benefit the Arthritis Foundation. Anyone is eligible to enter. ALL proceeds will be donated to the Arthritis Foundation and the Jingle Bell Run. Trophy awarded to the 1st place winner.
To enter the contest, contact Emily Slaven at slavene@uindy.edu or ext. 3305. The only cost to the cooks is the chili. All entrants will receive a T-shirt from the Jingle Bell Run (while supplies last).
Set up for the cooks will be from 11:30 to 11:45am in on the ground floor of the Health Pavilion just outside the Yoga Studio and the Movement Science laboratory. We will begin serving at 11:45am until 1:00pm. Cooks do not need to be present to win. Please bring your chili, stew or soup in a large crock-pot (or two) and a ladle. We will be providing bowls, spoons, bread, drinks, cheese, etc. for all tasters.
Please RSVP to Emily by Monday Nov. 26th if you plan to enter the cook-off. Good luck!!
Like chili but don't want to cook? Make a $5 donation to sample all entries and get a full bowl of your choice. More details about the Chili Cookoff 2018