Lugar to discuss global changes, international relations at UIndy symposium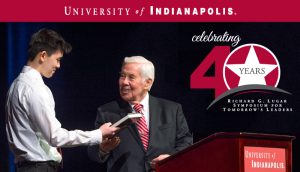 Dec. 3 address open to the public
As foreign policy became a leading issue in the 2016 presidential race, one of America's most respected voices on international affairs returns to the University of Indianapolis to share his insights on current issues around the world Dec. 3.
Former U.S. Sen. Richard Lugar will deliver the keynote address Saturday, December 3, at the 40th annual Lugar Symposium for Tomorrow's Leaders, presented by UIndy's Richard G. Lugar Academy. The event will draw more than 400 select high school juniors from throughout the state for a morning program and afternoon group discussion sessions on pressing public issues.
The public is invited to attend the 10 a.m. opening program – including Lugar's address, which he has often cited as his most important annual public speech – will be open free to the general public. This year, the statesman plans to focus his talk on America's role in the world in the 21st century.  After two terms as mayor of Indianapolis, Lugar served 36 years in the U.S. Senate, a tenure that included chairing the Committee on Foreign Relations and the Committee on Agriculture, Nutrition and Forestry. In 1991, he co-authored the landmark Nunn-Lugar Act, which deactivated more than 7,600 nuclear warheads in the former Soviet Union.
Lugar is the current president of The Lugar Center, a nonprofit organization based in Washington, D.C., that convenes experts and sponsors research on issues including global food and energy security, WMD nonproliferation, bipartisan governance and the effectiveness of international development aid programs.
The December 3 program also will include the presentation of this year's Richard G. Lugar Distinguished Student Leadership Award to Thomas A. Edison Jr. Sr. High School senior Drake Abramson. The award, which includes a $1,000 award, recognizes one Indiana high school senior each year for leadership and community service activities.
REGISTRATION
As seating is limited, attendees are asked to register in advance at:
https://40thuindylugarsymposium.eventbrite.com