Thank you! #GivingTuesday goal exceeded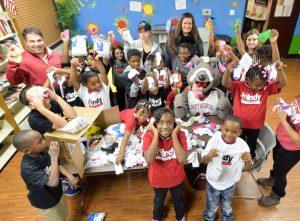 More than 290 alumni, students, parents, friends, faculty and staff came together to support the University's motto—Education for Service—on #GivingTuesday with gifts totaling $19,231!
A Perfect Match…Starts with You was a campaign to recognize the strong connection University of Indianapolis students, faculty, staff and alumni have to service and to provide a chance for UIndy to give to the children at the Laurelwood housing community near the campus. When a $25 gift was made to UIndy on Tuesday, UIndy donated a pair of socks to the children at Laurelwood. Over 250 pairs of socks were delivered at the end of the day.
Gifts were received from 16 states and the number of donors who participated on Tuesday was a 50 percent increase from the previous year.
Visit the #GivingTuesday page to see more photos from Laurelwood and the final results.