Quality of Life Plan poised to enhance South Indy
The University of Indianapolis will play a key role in implementing a recently completed Quality of Life plan impacting south Indianapolis, the result of a collaboration between campus, community and nearby businesses that began in February 2015. The plan was revealed during a Dec. 13 campus celebration.
Plan developers engaged more than 400 surrounding residents and business owners. From new walkways and urban gardens to additional healthcare facilities, housing options and job initiatives, the plan cites several critical needs defined by area residents. History, tradition and community development were common themes during the public meetings and outreach by neighborhood associations and community groups to formulate a "shared vision" of life in South Indianapolis, which since has been branded as SoIndy (www.soindy.org).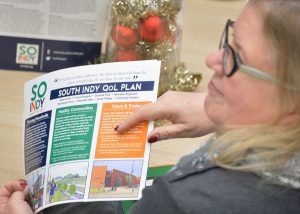 "Ultimately, this is Our plan together, and we will carry it out together," Tedd Grain, deputy director of LISC, told a large group of stakeholders at the UIndy Health Pavilion. "We are so excited about celebrating the unique vibrancy of South Indy, and the Quality of Life plan will foster that."
The University of Indianapolis is considered an anchor for the region, defined by the Quality of Life plan as eight-square blocks mostly north of I-465, west to Bluff Road, east to I-65 and south of Raymond Street. Target initiatives include Thriving Households, Healthy Communities and Talent and Trades.
"Along with many of our neighbors and the surrounding business community, UIndy is committed to being a catalyst for positive change in south Indianapolis," said UIndy President Rob Manuel. "This Quality of Life plan showcases the wonderful people and amenities that make up this unique area and provides a foundation for what see as our future."
Indianapolis Mayor Joe Hogsett, who campaigned as a champion of neighborhood revitalization, praised the work of the planning committee and the level of engagement among area neighbors. He reminded the crowd of how former Mayor Bill Hudnut led the difficult challenge of revitalizing downtown Indianapolis with the mantra of, "You cannot be a suburb of nothing." Hogsett, in turn, said the city "cannot be a downtown of nothing," stressing the importance of collaboration and partnership with the city and its surrounding neighborhoods.
"There is great connectivity and an incredible community spirit here, but I also know that you know you cannot do it alone," Hogsett said, saying the city stands ready to partner with neighborhood representatives on needed community improvements.
Dr. David Wantz, special assistant to the UIndy President's Office, said the university is proud to be part of the effort and looks forward to helping implement a sustainable plan for the community.
With the plan now in place, LISC will use its Great Places 2020 program as a framework for enhancements, with focus priorities on Livability, Opportunity, Vitality and Education (LOVE). To date, LISC has stabilized eight areas across Indianapolis resulting in $458 million in additional community investment.