Center of Excellence in Leadership of Learning announces new Early College High School director
The Center of Excellence in Leadership of Learning (CELL) at the University of Indianapolis has named Emily Burke as Director of its Early College High School initiative.
"We are excited to have Emily Burke join our CELL team as she brings extensive higher education experience along with solid knowledge of the Early College model," said CELL Executive Director Janet Boyle. "While at Butler University, she guided the establishment of an Early College partnership with Shortridge High School. Plus, as a first generation college graduate, Emily is passionate and committed to growing CELL's Early College initiative."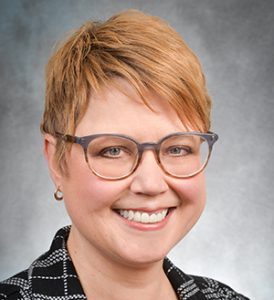 Burke brings a wealth of experience to CELL from her numerous roles in higher education at Butler and Jacksonville universities. Most recently at Butler, she was a foundation officer in University Advancement and previously was associate director in the Learning Resource Center and student advisor in the Office of Post-Graduate Studies.
Burke said her experience working with high school students enrolled in Butler's program demonstrated the crucial opportunities that Early College can provide.

"Early College is of immense value for students, schools and the state. I saw firsthand its impact on students and their pursuit of higher education as every single one of my students was accepted to his/her institution of choice," said Burke. "It empowered them to push themselves academically and personally."
Burke has a B.A. in English literature from Miami University in Ohio and M.S. Ed. in college student personnel administration from Indiana University.
Early College High Schools across Indiana provide underserved students with opportunities to earn both a high school diploma and associate degree or up to two years of credit toward bachelor's degrees. CELL provides training, technical assistance and other supports to over 90 Indiana high schools with Early College High School offerings, and the Indiana Commission of Higher Education has designated CELL as the agency to endorse the state's high performing programs.
About the Center of Excellence in Leadership of Learning
Created in 2001 at the University of Indianapolis, CELL is a leading convener, catalyst and collaborator for dynamic, innovative education change to improve student achievement throughout Indiana. CELL's efforts are rooted in the principle that all students, regardless of background, should graduate from high school prepared for postsecondary education, training and success in the 21st-century global economy. More information is available at cell.uindy.edu.