Local students create energy plan for Indiana
What would a sustainable energy plan for Indiana look like?
An ambitious project involving a diverse group of University of Indianapolis and IUPUI students is actively working to answer that question. The students, led by former Indianapolis Mayor and Visiting Fellow Greg Ballard, held the first in a series of meetings to obtain public feedback on their proposed energy plan for the state.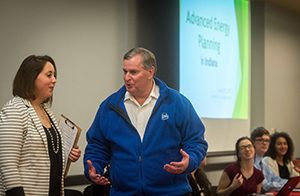 During a recent community conversation on the UIndy campus, the students presented their ideas and took questions from concerned citizens, who encouraged the group to consider issues like consumer education, bike lanes or the unique challenges faced by cash-strapped non-profits wishing to pursue sustainable energy practices.
The project includes ten students from the University of Indianapolis and two from Indiana University – Purdue University at Indianapolis (IUPUI).  The students began studying Indiana's energy needs last year as part of a project supported by the Central Indiana Community Foundation and the Simon Family Foundation.
"We want to tell people what this generation thinks about energy in the state of Indiana. How do we want to position that going into the future?" Ballard said.

The group, which is comprised of students whose majors run the gamut from biology to earth-space science to business, will present a finalized plan to Indiana state legislators in April.
Senior Carly Nicholson (Earth-Space Science) and junior Rowan Farrell (Biology, Pre-med) led the presentation, which covered the group's proposals for residential, commercial, industrial and transportation sectors. Their ideas ranged from improving building codes and encouraging microgrids to imposing minimum requirements for energy efficiency and converting commercial fleets to electric or hybrid vehicles.
Audience members praised the students' efforts to educate legislators. Jesse Kharbanda with the Hoosier Environmental Council offered several points of advice, most notably the importance of framing the plan in economic terms so lawmakers can understand the impact on jobs and return on investment.
The students plan to incorporate some of those suggestions into their research. A second community conversation is planned for Feb. 15 in Carmel, Ind. at the Carmel Clay Public Library.
"Gaining feedback from the Indianapolis community about our energy plan was needed and greatly appreciated. We had an extremely intelligent audience. The new ideas and fresh perspectives brought to us during the Q & A session were eye opening and inspiring. We truly can make a difference just as many of our attendees have before us," said Nicholson.
For the students, it's been a transformative experience.
Junior Rowan Farrell said she began her studies with a narrow focus on biology and pre-med. She said the internship has "broadened my scope immensely. In addition to the sciences, it's been fascinating to learn how much policy is involved."
Farrell is applying for an internship at the Pacific Northwest National Laboratory in Washington state, "something I never would have even considered" before her experience working on the project.
"I feel like I have found a purpose in environmental services," said Nicholson, who explained that she hadn't been sure about her career direction before joining the sustainable energy project. "Through this internship, I've seen how different points of view bring together an idea."