Conversation Circles become cultural exchange opportunity
It's Monday evening at the Writing Lab at Krannert Memorial Library, and somehow the conversation has wandered into the topic of raw baby octopus and pickled crickets. Whether the talk is about food, travel or culture, it's all part of the Conversation Circles program designed to bring international and American students together to chat in English and make connections.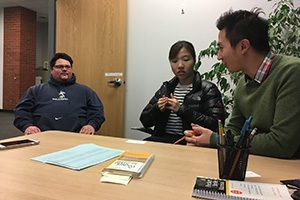 All students are welcome to join the Conversation Circles scheduled for the 2017 spring semester on the University of Indianapolis campus. Derek Zhao, a senior sociology major from China, and Lisa Kim, a sophomore music performance major, are the Conversation Circle facilitators on Monday nights.

The atmosphere is relaxed and friendly, and Zhao says that's the idea.
"It's a good chance for international students or for American students to meet each other. It's also a good chance for international students whose native language is not English to develop their English-speaking skills," said Zhao.
All Conversation Circle facilitators are English-speaking Writing Lab tutors who have undergone a training session.
International students representing 70 countries make up nearly nine percent of the student body at the University of Indianapolis. The Conversation Circles are the perfect chance for American students to get to know their international classmates, gain intercultural experience and explore language-learning.
"I decided to help facilitate a conversation circle because I also know as a foreigner coming here and learning a new language how difficult it was," explained Kim, who moved to the United States from South Korea with her family when she was six years old.
English-speaking students are encouraged to join the circles as volunteers.
"I have been looking to experience some Chinese culture with the potential of keeping some of my Chinese language skills," said Gary Bates, an MBA student.
International student Jasmine Lee said she's a regular at the weekly circles. "For this semester I just got much more free time, so I come constantly," she said.
"The greatest value of Conversation Circles for both international and native students is a chance to meet people of other cultures and share information so we can learn from each other and see both how quite unique and, at the same time, surprisingly similar we are," said Writing Lab Associated Director Dawn Hershberger.
The circles are as much about culture as they are about learning casual phrases.

"I thought it was also a nice experience to get to know all of the different cultures that are here at UIndy," Kim added.