UIndy Launches Full-Tuition Scholarship Program for Christel House Academy Students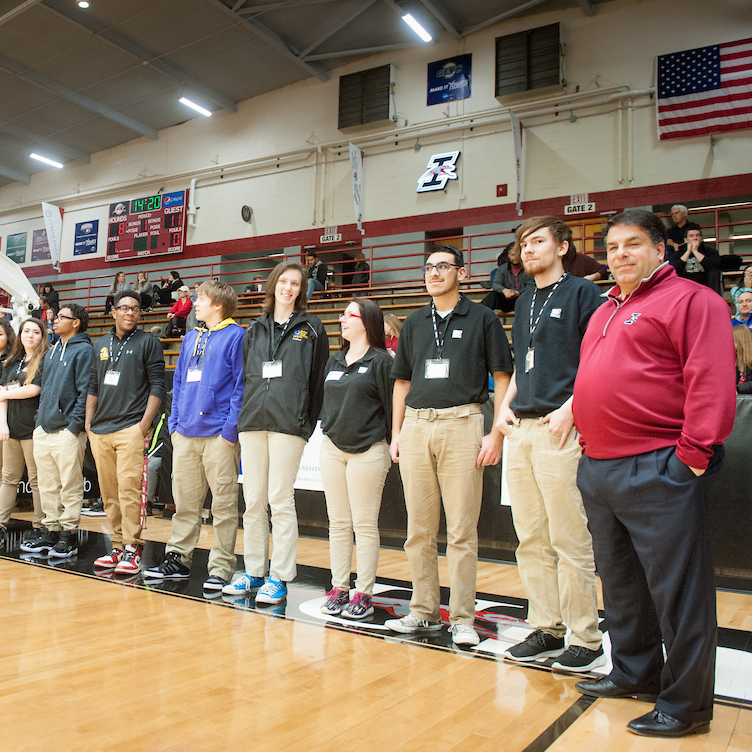 The University of Indianapolis has launched a new full-scholarship program for graduates of Christel House Academy South, further strengthening a longtime partnership between the two learning centers.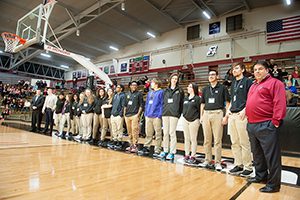 The program, launching in the Fall of 2017, includes two components: one covering full-tuition costs to attend the University of Indianapolis and another providing a room-and-board scholarship for up to 10 students. Eligible students must have successfully completed dual credit courses taught by University professors at Christel House.

"We have such a wonderful relationship with Christel House educators and students, and this program ensures we will continue as partners to strengthen our neighboring families by providing these students the opportunity to get a world-class education at UIndy," said University President Rob Manuel.
Manuel hosted Christel House students and families for the official launch of the scholarship program on Feb. 16 in the UIndy Health Pavilion on campus.
The students enjoyed a campus tour before being recognized on the court at Nicoson Hall during the annual Pack-the-House Night at the UIndy Greyhound basketball game.
"We are thrilled that the University of Indianapolis is offering these scholarships for our students at Christel House Academy South," said Carey Dahncke, head of schools for Christel House Academy. "Christel House Academy is proud of our academic achievements that have allowed our students to standout from what you typically expect to see in urban education.
"Nearly all of our students live in poverty, and the opportunity to attend a four-year university escapes many because of the financial commitment," Dahncke added. "So, the opportunity and generosity UIndy is providing will be a game changer for many of our graduates. It is simply an amazing opportunity that will forever change the lives of many."
Christel House, a public charter school on the south side of Indianapolis, provides classroom learning opportunities for teachers in training at the University. In addition, University faculty teach remote courses at the academy to give students there—many of whom will go on to be first-generation college students—a great advantage by entering college with existing credits and exposure to the University community.
About the University of Indianapolis
The University of Indianapolis, founded in 1902, is a private, liberal arts university located just a few minutes from downtown Indianapolis. UIndy is ranked among the top Midwest Universities by the U.S. News and World Report, with a diverse enrollment of more than 5,200 undergraduates, 1,300 graduate students and 400 continuing education students. The University offers a wide variety of study areas, including 100 undergraduate degrees, more than 35 master's degree programs and five doctoral programs. More occupational therapists, physical therapists and clinical psychologists graduate from UIndy each year than any other state institution. With strong programs also in engineering, business, and education, UIndy impacts its community by living its motto, "Education for Service." www.uindy.edu.
About Christel House Academy
Established as a public charter school in 2002, Christel House Academy (CHA) today operates four schools in Indianapolis—CHA South, serving at-risk students in grades K-12; CHA West currently serving grades K-4, and two adult high schools, Christel House DORS South and Christel House DORS West. CHA provides a holistic human development approach that focuses on building strong character to complement each child's rigorous academic foundation.  Through its College & Careers program, CHA continues to support its graduates through post-secondary education and job placement so they become self-sufficient, contributing members of society.
Christel House Academy South was Indiana's first charter school to receive the National Forum to Accelerate Middle-Grades Reform's "School to Watch" designation. Additional recognition includes the Indiana Achievement and Breakthrough Schools Awards. It has also been named a 2017 State School of Character by Character.org. For more information, please visit www.chacademy.org.