Fairbanks Symposium at the University of Indianapolis to examine role of greenspaces in city development
(INDIANAPOLIS) Local and national community leaders will discuss the value of urban parks and greenspaces in maintaining a world-class city at the upcoming Richard M. Fairbanks Symposium on Civic Leadership at the University of Indianapolis.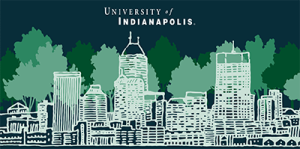 "Building Vibrant Cities Through Greenspaces and Parks" is the topic of this year's symposium, which will be held from 11:30 a.m. to 5:00 p.m. on Friday, March 3, 2017, at the Schwitzer Student Center on the University of Indianapolis campus. The symposium is presented by the University's Institute for Civic Leadership & Mayoral Archives, in partnership with Indiana Humanities, Keep Indianapolis Beautiful and Indy Parks.

Supported by the Richard M. Fairbanks Foundation, the 2017 Fairbanks Symposium aims to bring together thought leaders and community members to discuss why parks and greenspaces are vital to attractive, innovative and vibrant cities. Since its inception in 2013, the symposium has facilitated conversation about important civic issues, including the role of sports strategies to provide growth and civic engagement as well as the politics of civility.
"UIndy is proud to host the Fairbanks Symposium each year because it provides a forum for leaders and civic-minded residents to talk about issues that are fundamental to the quality of life in Indianapolis," said University President Robert Manuel.
Justin Garrett Moore, executive director of the NYC Public Design Commission, and Neelay Bhatt, vice president of PROS Consulting and National Recreation and Park Association (NRPA) Board Member, will participate in an "INconversation" during lunch. The Indiana Humanities program is designed to spark interesting and insightful conversation, and allows time for an engaging audience Q&A.
"We are honored to partner on the fourth annual Richard M. Fairbanks Symposium," said Keira Amstutz, president and CEO of Indiana Humanities. "This half-day event convenes community leaders to discuss and dream big about topics important to a city's vitality."
Community leaders will participate in a panel discussing five big ideas that transformed Indianapolis. Led by Indy Parks Director Linda Broadfoot, panelists include Andre T. Denman, Indy Parks principal park planner and greenways manager; Brian Payne, Central Indiana Community Foundation president and CEO; Meg Storrow, president and co-founder of storrow|kinsella; Alex Umlauf, operations and events manager of White River State Park; and David Wantz, executive vice president and interim provost, University of Indianapolis.
"Parks and greenspaces offer unlimited opportunities to get healthy and connect with your neighbors while discovering creative places to relax and play," said Broadfoot, adding that the Monon Trail has been a huge success story for the City of Indianapolis, with more than 1 million trail users in 2016 alone.
David Forsell, president of Keep Indianapolis Beautiful, will moderate a panel discussion about what's on the horizon in the Indianapolis greenspace scene.
"The Fairbanks Symposium will be a fantastic gathering to hear the visionary success stories we so often take for granted here in Indy. It is a chance to expand the conversation with national experts from whom we'll learn," Forsell said. "It is up to all of us to help our greenspaces thrive so our community thrives."
Participating in the panel are Lionel Bradford, president of The Greening of Detroit, Dale Heydlauff, president of the American Electric Power Foundation and Emily Wood, director of greenspace for Keep Indianapolis Beautiful.
University of Indianapolis Prof. Edward "Ted" Frantz, who serves as the director of Institute of Civic Leadership & Mayoral Archives at the University of Indianapolis, will provide closing remarks at the panel.
Former Indianapolis Mayor Greg Ballard, a visiting fellow at the Institute, will provide remarks at a post-event reception.
About the University of Indianapolis
The University of Indianapolis, founded in 1902, is a private, liberal arts university located just a few minutes from downtown Indianapolis. UIndy is ranked among the top Midwest Universities by the U.S. News and World Report, with a diverse enrollment of more than 5,200 undergraduates, 1,300 graduate students and 400 continuing education students. The University offers a wide variety of study areas, including 100 undergraduate degrees, more than 35 master's degree programs and five doctoral programs. More occupational therapists, physical therapists and clinical psychologists graduate from UIndy each year than any other state institution. With strong programs also in engineering, business, and education, UIndy impacts its community by living its motto, "Education for Service."
About the Richard M. Fairbanks Foundation
The Richard M. Fairbanks Foundation is an independent, private foundation granting funds to qualifying tax-exempt organizations in the greater Indianapolis area. The Foundation mission focuses on the Health, Education and Vitality of Indianapolis. Learn more at rmff.org.
About Indiana Humanities
Indiana Humanities connects people, opens minds and enriches lives by creating and facilitating programs that encourage Hoosiers to think, read and talk. Learn more at indianahumanities.org.
About Keep Indianapolis Beautiful
Keep Indianapolis Beautiful, Inc. is a private, nonprofit organization with a mission to engage diverse communities to create vibrant public places, helping people and nature thrive. In 2016, KIB worked with more than 20,000 volunteers on over 800 community projects. To learn more, visit www.kibi.org, or follow them on Twitter, Facebook, and Instagram at @kibiorg.
About Indy Parks and Recreation
Indy Parks and Recreation helps connect communities by providing places and experiences that inspire healthy living, social engagement, and a love of nature. Learn more at indy.gov/parks.
About UIndy's Institute for Civic Leadership & Mayoral Archives
UIndy's Institute for Civic Leadership & Mayoral Archives uniquely blends past, present and future. Founded in 2011, the Institute houses the archives of innovative mayors Richard Lugar, William Hudnut III, Stephen Goldsmith, Bart Peterson and Greg Ballard and also is a hub for conversations about vital issues in civic life. Learn more at uindy.edu/mayoral.