UIndy senior volunteers for earthquake relief in home country of Japan
When University of Indianapolis senior Takashi Urabe heard about the devastating earthquake in Kumamoto, Japan last year, he knew he wanted to help.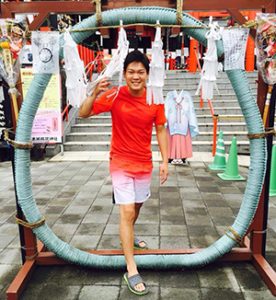 Urabe made the trip back to his home country to volunteer for earthquake clean-up on three separate occasions.
"I wanted to do volunteer disaster relief because earthquakes are really common in Japan," Urabe said. Kumamoto, which is located on the southernmost island of Kyushu in the Japanese archipelago, is a six-hour drive from his parents' home in Hiroshima in western Japan.
The April 2016 temblor registered as a magnitude 7.0 with several large aftershocks. According to news reports at the time, the quakes left 50 residents dead and 3,000 injured, and caused a significant number of homes and other structures to collapse. More than 44,000 people had to be evacuated from their homes, so there was clearly a role for volunteers to play alongside the Japan Self-Defense Forces that were deployed to assist in the area.
Motivated by the images of devastation he saw in news reports, Urabe said seeing the damage in person was much more intense. "I saw on TV that it was bad, but when I [went] there, it was much worse," he said.
Urabe helped cook meals for displaced residents during his first volunteer effort. During subsequent visits, he participated in clean-up and distributing supplies to shelters. He also helped residents return to their damaged homes to retrieve belongings. Despite the devastation, homeowners were grateful to volunteers, Urabe said. "They really welcomed us and thanked us."
"Most of the houses collapsed or are too dangerous to live in," Urabe said. Residents made homeless by the earthquake were temporarily housed in school gymnasiums. "There is not much privacy. There's a wall, but it's just really thin."
Urabe said the need for help continues long after the news cameras are gone. Efforts to provide economic support to the Kumamoto area continue today. But as time goes by, "the TV [news] doesn't show Kumamoto much, and people think – 'oh, maybe they already recovered.' But it's not totally recovered." Even though the Kumamoto residents he met were reeling from the loss of their homes, Urabe said he was touched by their hopeful attitude. "They're looking to the future," he said.
A mathematics major, Urabe came to central Indiana as a high school student seven years ago. His parents returned to Japan when he entered university. "It's difficult, but it's a very good chance to learn English," Urabe said.
Due to graduate in May 2017, Urabe hopes to pursue a career that involves helping people, and he's focusing on businesses that make giving back a core value. He's already had one job offer – but he's still giving it some thought.
"I really want to [continue] to do volunteering even when I start my new job," he said.