From pocket parks to global solutions

More than 200 community leaders participated in the 2017 Richard M. Fairbanks Symposium on Civic Leadership at the University of Indianapolis March 3. This year's symposium brought local and national visionaries together to discuss how greenspaces contribute to a vibrant urban life.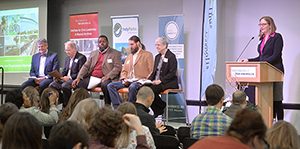 Event organizers included University of Indianapolis Professor Ted Frantz, who is also director of the Institute of Civic Leadership & Mayoral Archives, in partnership with Indy Parks, Keep Indianapolis Beautiful and Indiana Humanities. The symposium acknowledged Indianapolis' long history of greenspace planning and environmental stewardship, from architect George Kessler's original 1908 plan to Mayor Bill Hudnut's efforts in the 1970s and 80s to "green" the City of Indianapolis.
"It was a pleasure to be in a room with so many Indy residents interested in civic leadership, especially around the issue of parks and greenspace. The topics ranged from small things we can all do to improve the greenspace around us to much larger, systemic issues. And the lesson is that it will take creativity from all of us to ensure a greener future," said Linda Broadfoot, Indy Parks director.
During the kick-off INconversation, Justin Garrett Moore and Neelay Bhatt talked about using design and data thoughtfully to make the most of greenspaces. Moore, an Indy native who serves as the current director of New York City's Public Design Commission, encouraged neighbors to create "urban patches"— small interventions, such as murals, pocket parks or trail connections, that solve big problems.
"I was excited to see how presenters and speakers connected the dots between parks and other facets of urban life, including transit, crime, health and economic development. I think we all learned that greenspace planning shouldn't happen in a vacuum," said Leah Nahmias, Director of Programs and Community Engagement, Indiana Humanities.
While less than a third of Indianapolis residents live within walking distance of a park, several speakers noted the recent approval of the Indy Go mass transit plan as a good start. Neelay Bhatt, of PROS Consulting, pointed to Singapore, where transit lines lead to stadiums surrounded by public parks and trails, as a possible inspiration for Indianapolis' future.
The symposium featured a video that paid tribute to the legacy of former Mayor Bill Hudnut, whose iconic 1970s "Hudnut Hook" commercial motivated residents to get involved in anti-litter efforts. Hudnut, whose Clean City Committee eventually became Keep Indianapolis Beautiful, was the first mayor to recognize that eliminating litter was important not only for a city's self-image, but also for the health and well-being of its residents. Watch the video here.
The symposium's final panel explored how great parks yield economic, social and ecological benefits. Examples ranged from public-private partnerships like Columbus's Scioto Mile, the Greening of Detroit's inspiring youth employment program that transforms empty lots from liabilities to assets or KIB's big push to plant natives that shore up the base of the food chain.

The Institute of Civic Leadership and Mayoral Archives hosts the annual Richard M. Fairbanks Symposium on Civic Leadership and other conferences and lectures throughout the year. Previous symposium topics include the role the arts can play in community development and civic life, and a discussion with Indianapolis current and former mayors about the city's rich past and the challenges it faces in the future. Learn more about the Institute here.