Martinsville, Homestead claim top spots in 2017 IASB High School Broadcasting Competition Awards

Martinsville High School was named Television School of the Year and Homestead High School won Radio School of the Year at the 2017 Indiana Association of School Broadcasters (IASB) awards Monday at the University of Indianapolis. Crown Point High School was the Television School of the Year runner-up, while Carmel High School was the runner-up in the Radio School of the Year category.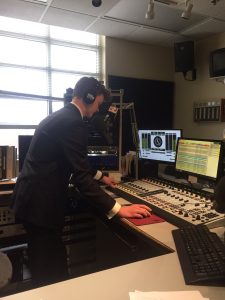 More than 800 students and instructors from 30 Indiana high schools and career centers attended the IASB 14th annual conference on UIndy's campus. Students participated in the IASB High School Broadcasting Competition and attended over two-dozen workshops that addressed topics ranging from promotions, video production and storytelling to social media, radio and sports broadcasting.
The top six radio air personalities and news anchors competed live on WICR-FM, and their television counterparts competed in the UIndy TV studio.
"This year's conference was the largest ever. The quality and variety of the professional development sessions was incredible. The students who performed live in the TV and radio news and radio air personality events were especially impressive, which made it tough for the judges to select a winner," said IASB Executive Director and University of Indianapolis Communications instructor Scott Uecker.
Complete list of 2017 IASB High School Broadcasting Competition Award winners:
Radio Interview
1.) Zoe Dwiggins, Pendleton Heights High School
2.) Addison Laker, Franklin Central High School
3.) Dan Burkhard, Carmel High School
Radio Sportscast
1.) Jack Parisi, Homestead High School
2.) Leo Wroblewski, Carmel High School
3.) Michael Shetler and Andrew Mamone, Wawasee High School
Radio Spot Production
1.) Nathan Price, J. Everett Light Career Center
2.) Anne Zachodni, J. Everett Light Career Center
3.) Ryan Wilks and Malia Mulligan, Franklin Central High School
Radio Imaging
1.) Kolin Davis, Homestead High School
2.) Lela Anthony, Mya Tolliver, Zack Burton, Truman Henderson, J. Everett Light Career Center
3.) Amanda Ackerman, Brea-Anna Mullen, Hilary Bauer, RTV 2 Class, Jasper High School
Radio In-Depth
1.) Olivia Harris, Mae Ban, Carmel High School
2.) Patrick Simpson, Carmel High School
3.) Abigail Boylan, Homestead High School
Radio Drama
1.) Lizzie Riley and Kylie Lewis, Franklin Central High School
2.) Caleb Childers, SaraAnna Hohman, Juan Terrazas, Lilli Dwyer, Warsaw Community High School
3.) Kolin Davis, Khira Hickbottom, Jessie Majors, Homestead High School
Radio Play-by-Play
1.) Austin Render, Homestead High School
2.) Sam Bannon, Pendleton Heights High School
3.) Griffin Gonzalez, Carmel High School
Radio Sporting Event Broadcast
1.) Cory Vervynckt, Cole Bartek, Justin Margolius, Zachary Harshman, Ben Davis High School
2.) Austin Render, Matt Schreck, Gabe Smith, Garrett Willis, Homestead High School
3.) Griffin Gonzalez, Nick Lewis, Max Hurwitz, Carmel High School
Radio Talk Show
1.) Mitch Bolda, Jack Gardner, Kyle Gilson, Reece Grapenthien, Crown Point High School
2.) Jackson Ammons and Ethan Sellers, Carmel High School
3.) Leo Wroblewski, Griffin Gonzalez, Nick Lewis, Carmel High School
Radio Copywriting
1.) Hannah Cougill, Franklin Central High School
2.) Samuel Ridge, Porter County Career Center
3.) Hannah Dubord, Southern Indiana Career and Technical Center
Radio Bit or Skit
1.) Zach Miller, Jack Michal, Carmel High School
2.) Kolin Davis, Homestead High School
3.) Jonathan Phillippe, Franklin Central High School
Radio News Anchor
1.) Kolin Davis, Homestead High School
2.) Cory Balkenbusch, Homestead High School
3.) Olivia Johnson, Pendleton Heights High School
Radio Air Personality
1.) Jackson Ammons, Carmel High School
2.) Kolin Davis, Homestead High School
3.) Zack Burton, J. Everett Light Career Center
Radio School of the Year
Winner: Homestead High School
First Runner-Up: Carmel High School
Second Runner-Up: Franklin Central High School
Television Spot Production
1.) Owen Rendel, Jasper High School
2.) Ann Longjohn, Kokomo Area Career Center
3.) Haley Bramwell, Crown Point High School
Music Video
1.) David Israbian, Carroll High School
2.) Nolan Cauley, Pendleton Heights High School
3.) Diana Ortiz, Hammond Area Career Center
Video Magazine
1.) Advanced Broadcasting Class, Martinsville High School
2.) Zack Travelsted, Mason Schafer, Nick McGrotty, Cameron Chapman, Brownsburg High School
3.) Studio 415 Staff, Carroll High School
Television Package
1.) Evan Holland, Crown Point High School
2.) Andrew Walker, Martinsville High School
3.) Carmen Haynes, Ben Davis High School
Television School Newscast
1.) Advanced Broadcasting Class, Martinsville High School
2.) CPTV Staff, Crown Point High School
3.) HHS In Depth, Homestead High School
Video In-Depth
1.) MaKayla Melton, Ben Davis High School
2.) Annie Keister, Martinsville High School
3.) Ben Myers and Andrew Baum, Brownsburg High School
Live Telecast
1.) Extended Play Studios & BHS-TV, Brownsburg High School
2.) CPTV Staff, Crown Point High School
3.) Grant Siefker, Carmel High School
Corporate Video
1.) Andrew Walker, Martinsville High School
2.) Houston Carver, Rebekah Williams, Greg Lyons, Zo Villafuerte, Richmond High School
3.) Alexander Phams and Aryeh Phillips, Arsenal Tech High School
Short Film
1.) Allison Rogers, Priscilla Olson, Tyler Armstrong, Jasper High School
2.) Meredith Cavaleri, Haley Reed, Hunter Reed, Whiteland Community High School
3.) Evan Hay, J. Everett Light Career Center
Video Show Open/Close
1.) CPTV Staff, Crown Point High School
2.) Brea-Anna Mullen, Jasper High School
3.) John Sullivan and Blaine Holton, Franklin Central High School
Television Copywriting
1.) Hayley Parnell, Martinsville High School
2.) Madelaine Haltom, Franklin Central High School
3.) Andrea Rillo, Jasper High School
Videography
1.) Nick Morgan, Crown Point High School
2.) Grant Siefker, Carmel High School
3.) Haley Bramwell, Crown Point High School
Cinematography
1.) Evan Smoker and Adele Reich, Carmel High School
2.) Austin Shepard, Prairie Heights High School
3.) MaKayla Melton, Madisen Wells, Ben Davis High School
Sound Design
1.) Zach Piner, Porter County Career Center
2.) Meredith Cavaleri and Alli Hahn, Whiteland Community High School
3.) Malik Benberry, Abe Sieka, Taegrin Hughey, J. Everett Light Career Center
Television News Anchor
1.) Andrew Walker, Martinsville High School
2.) Mikaili Azziz, Walker Career Center
3.) JD Arland, Carmel High School
Television School of the Year
Martinsville High School
First Runner-Up: Crown Point High School
Second Runner-Up: Jasper High School